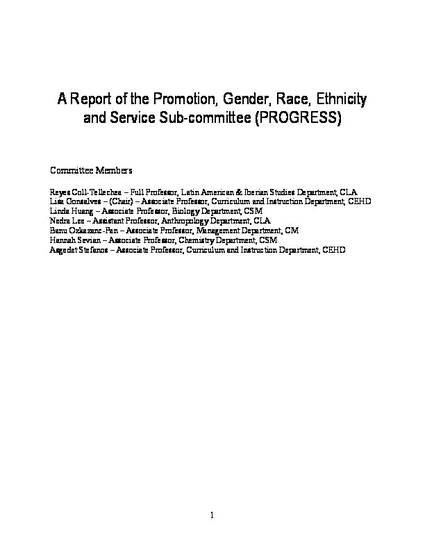 Other
A Report of the Promotion, Gender, Race, Ethnicity and Service Sub-committee (PROGRESS) PROGRESS report 21-Apr-2017.pdf
(2017)
Abstract
In November 2015, the Faculty Council at UMass Boston established a sub-committee charged with examining the relationships between gender, minority status, service commitments, and the roles of these intersecting factors in tenure and promotion. The Faculty Council appointed a diverse group of seven female faculty members at all ranks and representing four colleges. The Sub-committee examined institutional data, conducted a literature review, and designed a survey, which was sent to all tenure-stream faculty of the University. A report of findings and recommendations was submitted to the Faculty Council in April 2017. The report outlines six main findings. First, there is clear gender inequity in terms of commitment to service. Second, there is also clear racial inequity in terms of service. Third, service is not well defined at UMass Boston. Fourth, there is a disharmony of messages from department-level and Provost-level about the value of service. Fifth, women engage in more time-intensive service at UMass Boston, particularly departmental level service and advising/mentoring, which inhibits their advancement along the tenure-stream. Finally, faculty recommend that there be clear guidelines about the value of service, and that resources be allocated to provide administrative and professional staff support at the departmental level, so that faculty can do less administrative work and engage in more meaningful service. Out of these findings emerged a clear realization that shared governance at UMass Boston has been compromised by a systematic devaluation of service coupled with a decrease in infrastructure and the rise in enrollment, which have led to an increased need for service that has primarily been taken up by women. This has contributed to a transfer of power from faculty to administration. Based on the findings, the Sub-committee makes seven recommendations. First, the University should acknowledge and codify in writing that service, when it is done well, should be counted on equal footing with research/scholarship and teaching in decisions about tenure and promotion. Second, service should be more clearly defined. Third, a clear set of guidelines should be developed for how and when junior faculty serve on both departmental and university committees, and for how service work should be shared more equitably by all faculty. Fourth, resources should be devoted to and/or diverted from upper administration to departmental professional staff. Fifth, associate professors who chair departments and serve as GPDs should be provided resources and allowances that permit them to continue their research productively. Sixth, more faculty of color should be hired
at all levels
: assistant, associate, and full. And finally, we recommend that the University begin to systematically gather and analyze data on the types of faculty service required to govern this university, looking specifically at who performs that service, what types of administrative and professional staff support are available to faculty who have heavy service loads, and finally, the impact of this service on tenure and promotion. 
Keywords
Promotion,
race,
gender,
UMassBoston,
service,
faculty governance
Publication Date
Spring April 24, 2017
Citation Information
Reyes Coll-Tellechea, Lisa Gonsalves, Hannah Sevian, Asgedet Stefanos, et al.. "A Report of the Promotion, Gender, Race, Ethnicity and Service Sub-committee (PROGRESS) PROGRESS report 21-Apr-2017.pdf" (2017)
Available at: http://works.bepress.com/reyes_coll-tellechea/18/
Creative Commons license
This work is licensed under a Creative Commons CC_BY-NC International License.