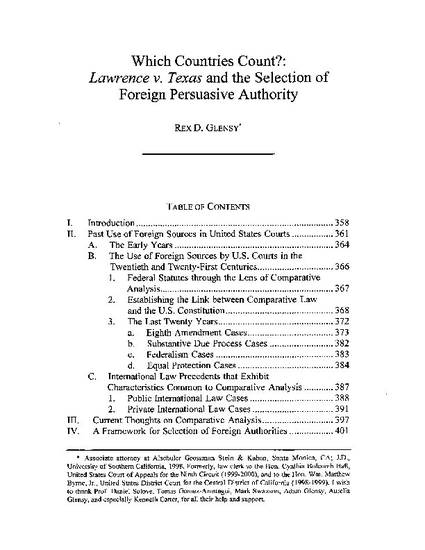 Article
Which Countries Count?: Lawrence v. Texas and the Selection of Foreign Persuasive Authority
Virginia Journal of International Law (2005)
Abstract
This Article provides a selection process for foreign persuasive authority within the context of comparative analysis by combining the results of an historical analysis of the use of foreign authority with modern trends in social sciences and legal scholarship. It argues that the ethos of comparative law is one of informed nation selection, and that its proponents should not shy away from this reality but tackle it head on. It describes an approach to such selection process, one which combines historical fact, normative desirability, and contemporary understanding of judicial interpretative techniques, and shows how courts can integrate this approach within their opinions when they deem comparative analysis to be appropriate.
Publication Date
December, 2005
Citation Information
Rex D. Glensy. "Which Countries Count?: Lawrence v. Texas and the Selection of Foreign Persuasive Authority"
Virginia Journal of International Law
Vol. 45 Iss. 2 (2005)
Available at: http://works.bepress.com/rex_glensy/2/