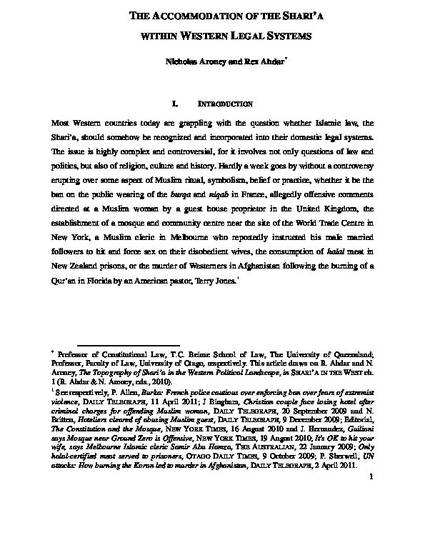 Unpublished Paper
THE ACCOMMODATION OF THE SHARI'A WITHIN WESTERN LEGAL SYSTEMS
ExpressO (2011)
Abstract
The article addresses the highly topical and controversial issue of the accommodation of the Shari'a within Western legal systems. It argues that the issue raises fundamental questions, not only about the nature of shari'a, but also about the liberal-constitutional foundations of 'the West' as we know it. The article closely analyzes and scrutinizes these questions from various historical, philosophical, religious and legal points of view. We conclude that when these matters are properly considered, there is room for a carefully defined accommodation of Shari'a within the legal systems of the West, but with certain important qualifications.
Keywords
accommodation of religion,
Islamic law
Publication Date
September 13, 2011
Citation Information
Rex J Ahdar. "THE ACCOMMODATION OF THE SHARI'A WITHIN WESTERN LEGAL SYSTEMS"
ExpressO
(2011)
Available at: http://works.bepress.com/rex_ahdar/4/