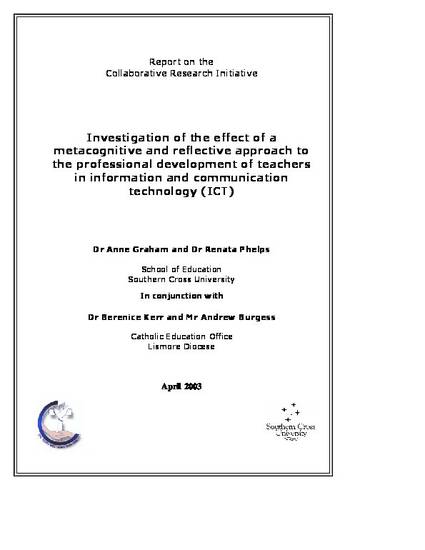 Other
Report on the Collaborative Research Initiative: investigation of the effect of a metacognitive and reflective approach to the professional development of teachers in information and communication technology (ICT)
Unpublished report
Publication Date
1-1-2003
Abstract
ICT professional development is currently a major priority at local, state and national level. It has become a particular imperative for secondary teachers given the full implementation of state-wide computer skills assessments for all Year 10 students in 2004. The metacognitive and reflective approach to professional development that forms the basis of this report is a response to the limitations of directive approaches to ICT learning within a context of rapid technological change. It challenges often employed competency-based approaches, instead proposing a capability-based approach which strives to develop lifelong computer learning strategies. The metacognitive and reflective approach focuses on teachers' beliefs, attitudes and metacognitive understandings and assists them to come to terms with the nature of technological change and their own abilities to confront this change. An important characteristic of the metacognitive approach is that, rather than specific objectives or outcomes being 'imposed' on learners, participants are encouraged to identify, articulate and pursue personally relevant goals, including those related to skills, attitudes, confidence, values and understandings, integration and/or school leadership. Such an approach provides versatility in meeting the professional development needs of a wide range of teachers with diverse computer backgrounds. While the approach has been developed and refined with pre-service teachers (Phelps, 2002), its applicability with practising teachers was perceived as worthy of research. The Catholic Education Office, Lismore Diocese, expressed an interest in working with Southern Cross University in trialing an alternative approach to the ICT professional development of their teachers. In particular, they wished to focus on secondary teachers throughout the Diocese. The Lismore CEO funded the first phase of the research to the order of $28,955.60, which covered costs of delivering ICT professional development in the form of a postgraduate unit to 40 teachers. A further $14,998.45 was obtained through the Southern Cross University Collaborative Research Grants Scheme. Promotion of the professional development initiative met with unexpected and overwhelming response with a total of 84 teachers volunteering to participate. A sample of 40 teachers was selected by the CEO in consultation with school principals and the research commenced in June 2002.
Citation Information
Graham, A & Phelps, R 2003, 'Report on the Collaborative Research Initiative: investigation of the effect of a metacognitive and reflective approach to the professional development of teachers in information and communication technology (ICT)', Unpublished report.