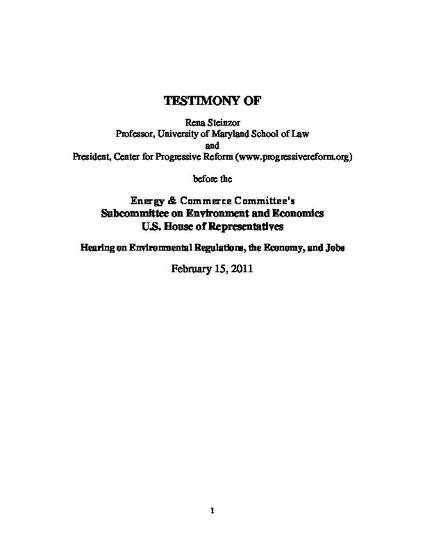 Popular Press
Testimony of Rena Steinzor…before the U.S. House of Representatives, Energy and Commerce Committee, Subcommittee on Environment and Economics. 112th Congress, 1st Session (2011).
Congressional Testimony
Publication Date
2-15-2011
Keywords
U.S. House of Representatives,
testimony,
environment,
natural resources,
employment,
administrative law,
regulations,
Environmental Protection Agency
Abstract
Environmental regulations have saved millions of lives, preventing chronic respiratory illness and heart attacks in cities across the country. These rules protect children from irreversible neurological damage, save billions of dollars in cleanup costs, and preserve water quality in lakes, rivers, and streams. If anything, our regulatory system is dangerously weak, and Congress should focus on reviving it rather than eroding public protections….
Citation Information
Rena I. Steinzor. "Testimony of Rena Steinzor…before the U.S. House of Representatives, Energy and Commerce Committee, Subcommittee on Environment and Economics. 112th Congress, 1st Session (2011)." (2011)
Available at: http://works.bepress.com/rena_steinzor/43/