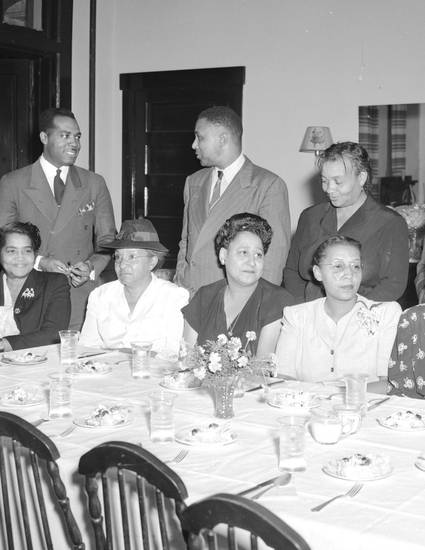 Other
Colored Community Chest
2013 Black History Month Virtual Exhibit
Photo Source
John C. Wyatt Lexington Herald-Leader photographs.
Description
A meeting of the leaders of the Lexington Colored Community Chest organization. Seated (from left to right): Mrs. Lucy Hart Smith, Mrs. Lydia Searcy, Ethel Taylor, Mrs. Shirley Hardy, Mrs. Lizzie Johnson; standing (from left to right): U.S. Fowler, A.R. Howard, Mrs. Elizabeth Moody and Clifton Coleman.
Acknowledgements
Image processed and enhanced by Jason Flahardy, University of Kentucky Libraries Special Collections.
Creative Commons License
Creative Commons Attribution-Noncommercial-No Derivative Works 3.0
Citation Information
Reinette F. Jones. "Colored Community Chest" (2013)
Available at: http://works.bepress.com/reinette_jones/35/