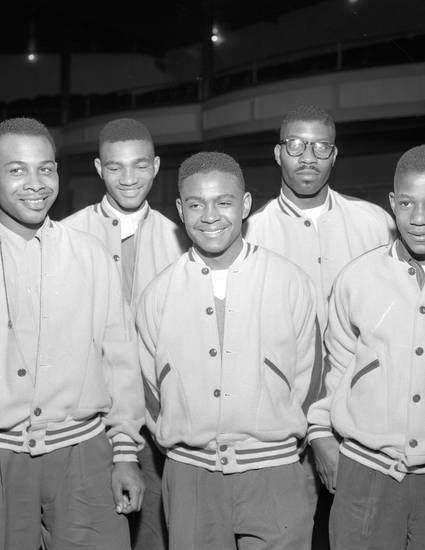 Other
1950 Golden Gloves Tourney 2
2013 Black History Month Virtual Exhibit
Photo Source
John C. Wyatt Lexington Herald-Leader photographs.
Description
1950 Novice Champions. (from left to right) James Fisher, Lexington, light-heavyweight; Edward Martin, Lexington, middleweight; Russell McNeal, Lexington, lightweight; LeRoy Garvin, Kentucky State College, heavyweight; Charles Kennedy, Greendale, bantamweight. 1950 January 25.
Acknowledgements
Image processed and enhanced by Jason Flahardy, University of Kentucky Libraries Special Collections.
Creative Commons License
Creative Commons Attribution-Noncommercial-No Derivative Works 3.0
Citation Information
Reinette F. Jones. "1950 Golden Gloves Tourney 2" (2013)
Available at: http://works.bepress.com/reinette_jones/11/