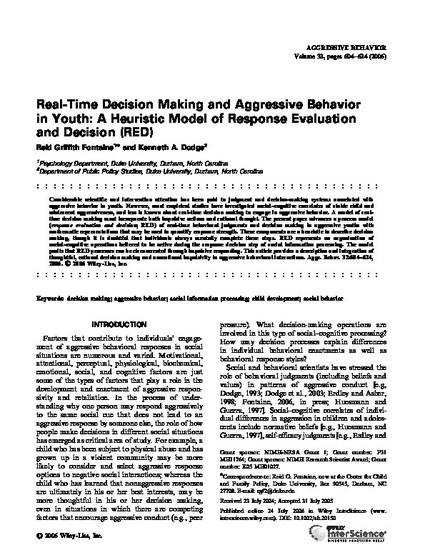 Article
Real-time decision making and aggressive behavior in youth: A heuristic model of response evaluation and decision (RED)
Aggressive Behavior (2006)
Abstract
Considerable scientific and intervention attention has been paid to judgment and decision-making systems associated with aggressive behavior in youth. However, most empirical studies have investigated social–cognitive correlates of stable child and adolescent aggressiveness, and less is known about real-time decision making to engage in aggressive behavior. A model of realtime decision making must incorporate both impulsive actions and rational thought. The present paper advances a process model (response evaluation and decision; RED) of real-time behavioral judgments and decision making in aggressive youths with mathematic representations that may be used to quantify response strength. These components are a heuristic to describe decision making, though it is doubtful that individuals always mentally complete these steps. RED represents an organization of social–cognitive operations believed to be active during the response decision step of social information processing. The model posits that RED processes can be circumvented through impulsive responding. This article provides a description and integration of thoughtful, rational decision making and nonrational impulsivity in aggressive behavioral interactions.
Keywords
Decision making,
Aggressive behavior,
Social information processing,
Child development,
Social behavior,
Social cognition,
Children,
Adolescence,
Juveniles
Citation Information
Reid Griffith Fontaine and Kenneth A. Dodge. "Real-time decision making and aggressive behavior in youth: A heuristic model of response evaluation and decision (RED)"
Aggressive Behavior
Vol. 32 Iss. 6 (2006)
Available at: http://works.bepress.com/reid_fontaine/9/