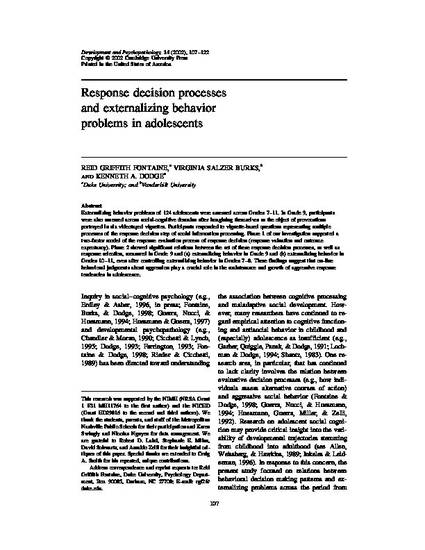 Article
Response decision processes and externalizing behavior problems in adolescents
Development and Psychopathology (2002)
Abstract
Externalizing behavior problems of 124 adolescents were assessed across Grades 7–11. In Grade 9, participants were also assessed across social-cognitive domains after imagining themselves as the object of provocations portrayed in six videotaped vignettes. Participants responded to vignette-based questions representing multiple processes of the response decision step of social information processing. Phase 1 of our investigation supported a two-factor model of the response evaluation process of response decision (response valuation and outcome expectancy). Phase 2 showed significant relations between the set of these response decision processes, as well as response selection, measured in Grade 9 and (a) externalizing behavior in Grade 9 and (b) externalizing behavior in Grades 10–11, even after controlling externalizing behavior in Grades 7–8. These findings suggest that on-line behavioral judgments about aggression play a crucial role in the maintenance and growth of aggressive response tendencies in adolescence.
Keywords
Social cognition,
development,
children,
adolescents,
juveniles,
aggression,
violence,
antisocial behavior,
decision making,
judgment
Citation Information
Reid Griffith Fontaine, Virginia Salzer Burks and Kenneth A. Dodge. "Response decision processes and externalizing behavior problems in adolescents"
Development and Psychopathology
Vol. 14 Iss. 1 (2002)
Available at: http://works.bepress.com/reid_fontaine/7/