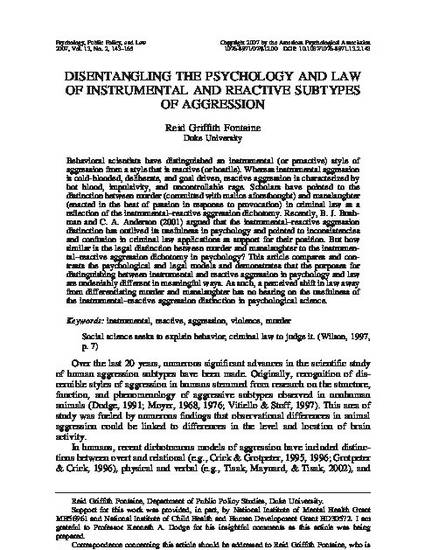 Article
Disentangling the Psychology and Law of Instrumental and Reactive Subtypes of Aggression
Psychology, Public Policy, and Law (2007)
Abstract
Behavioral scientists have distinguished an instrumental (or proactive) style of aggression from a style that is reactive (or hostile). Whereas instrumental aggression is cold-blooded, deliberate, and goal driven, reactive aggression is characterized by hot blood, impulsivity, and uncontrollable rage. Scholars have pointed to the distinction between murder (committed with malice aforethought) and manslaughter (enacted in the heat of passion in response to provocation) in criminal law as a reflection of the instrumental–reactive aggression dichotomy. Recently, B. J. Bushman and C. A. Anderson (2001) argued that the instrumental–reactive aggression distinction has outlived its usefulness in psychology and pointed to inconsistencies and confusion in criminal law applications as support for their position. But how similar is the legal distinction between murder and manslaughter to the instrumental–reactive aggression dichotomy in psychology? This article compares and contrasts the psychological and legal models and demonstrates that the purposes for distinguishing between instrumental and reactive aggression in psychology and law are undeniably different in meaningful ways. As such, a perceived shift in law away from differentiating murder and manslaughter has no bearing on the usefulness of the instrumental–reactive aggression distinction in psychological science.
Keywords
instrumental,
reactive,
aggression,
violence,
murder
Citation Information
Reid G. Fontaine. "Disentangling the Psychology and Law of Instrumental and Reactive Subtypes of Aggression"
Psychology, Public Policy, and Law
Vol. 13 Iss. 2 (2007)
Available at: http://works.bepress.com/reid_fontaine/24/