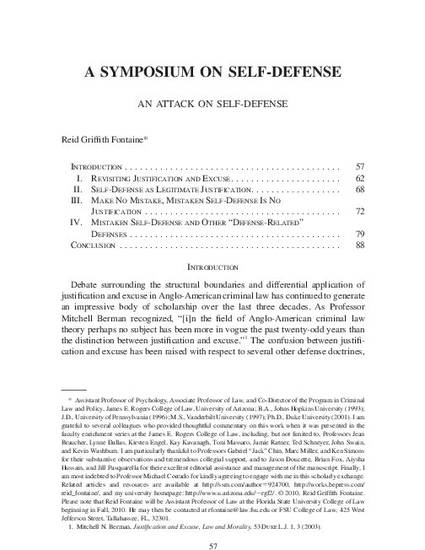 Article
An Attack on Self-Defense
American Criminal Law Review (2009)
Abstract
Debate about the distinction between justification and excuse in criminal law theory has been lively during the last thirty years. Questions as to the nature and structure of various affirmative defenses continue to be raised, and the doctrine of self-defense has been at the center of much discussion. Three main articulations have been advanced: a purely objective theory, a purely subjective theory, and an objective/subjective hybrid. In the present Article, I support a hybrid model and propose a three-requirement framework that delineates the criteria that must be met to satisfy self-defense as a legitimate justification. Because this three-requirement framework raises the floor of justification, it rejects numerous types of defense-related conduct that may qualify as justifiable by other theories. I believe that although these related forms of conduct are not necessarily justifiable, they may be excusable. As such, I outline and discuss a six-tier hierarchy by which self-defense and defense-related instances of reactive violence may be classified according to the degree (complete or partial) to which they are justifiable or excusable. In these ways, I address and attempt to resolve several critical questions about the nature of self-defense that have remained open in the literature.
Keywords
Justification,
Excuse,
Affirmative Defense,
Homicide,
Self-Defense,
Defense of Others,
Mistake,
Murder,
Manslaughter
Citation Information
Reid G. Fontaine. "An Attack on Self-Defense"
American Criminal Law Review
Vol. 2009 (forthcoming) (2009)
Available at: http://works.bepress.com/reid_fontaine/15/