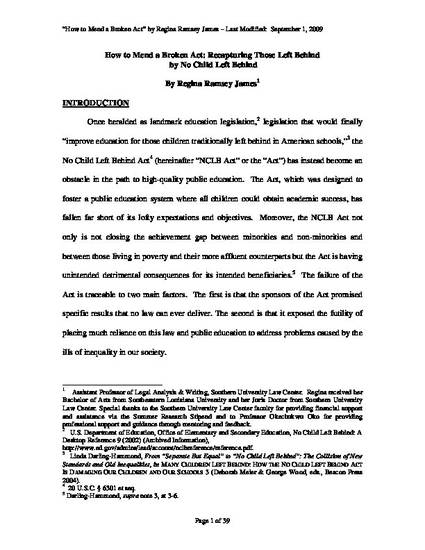 Unpublished Paper
How to Mend a Broken Act: Recapturing Those Left Behind by No Child Left Behind
ExpressO (2009)
Abstract
Our public education system is plagued with numerous problems which translate into obstacles for a generation of children desperately in need of a high-quality education in this Information Era. My recent piece, How to Mend a Broken Act: Recapturing Those Left Behind by No Child Left Behind, discusses one of the more recent yet extremely significant components of public education—the No Child Left Behind Act. This Act, which purportedly was designed to allow all students, irrespective of race and/or situation of poverty, a meaningful opportunity for a high-quality education, has instead fueled a national epidemic of dropouts and sacrificed in-depth learning which is not replaced with "drill and kill" standardized test based curricula. This article explores the reasons the NCLB Act needs to be fundamentally changed if its promise of providing all children with a fair, equal, and significant opportunity to obtain a high-quality education is to ever be realized. After a discussion of relevant provisions of the Act, several revisions to the Act are proposed. Specifically, I opine that the idea of universal proficiency be replaced with a more realistic educational goal and that the unattainable deadline for such universal proficiency be eliminated. Necessary elements of the changes advanced include modified assessment and accountability tools as well a redirected focus away from "drill and kill" testing toward higher order learning.
Keywords
No Child Left Behind Act,
equal educational opportunity,
adequate yearly progress,
universal proficiency,
higher order learning,
high quality education,
accountability and assessments
Publication Date
September 2, 2009
Citation Information
Regina Ramsey James. "How to Mend a Broken Act: Recapturing Those Left Behind by No Child Left Behind"
ExpressO
(2009)
Available at: http://works.bepress.com/regina_james/1/