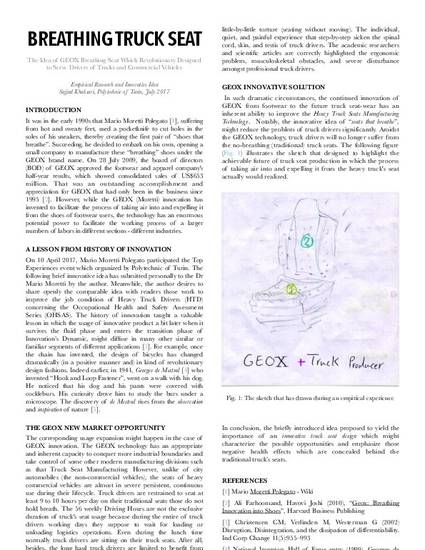 Other
THE TRUCK SEAT THAT BREATHE
(2017)
Abstract
On 10 April 2017, Mario Moretti Polegato participated the Top Experiences event which organized by Polytechnic of Turin. The following brief innovative idea has submitted personally to the Dr Mario Moretti by the author. Meanwhile, the author desires to share openly the comparable idea with readers those work to improve the job condition of Heavy Truck Drivers (HTD) concerning the Occupational Health and Safety Assessment Series (OHSAS). The history of innovation taught a valuable lesson in which the usage of innovative product a bit later when it survives the fluid phase and enters the transition phase of Innovation's Dynamic, might diffuse in many other similar or familiar segments of different applications...
Keywords
Truck,
Seat,
Breathe,
Innovation,
Geox
Publication Date
Summer July 1, 2017
DOI
10.13140/RG.2.2.34117.04321
Citation Information
Sajjad Khaksari. "THE TRUCK SEAT THAT BREATHE" (2017)
Available at: http://works.bepress.com/redbeardsajjad/32/
Creative Commons license
This work is licensed under a Creative Commons CC_BY-NC-ND International License.