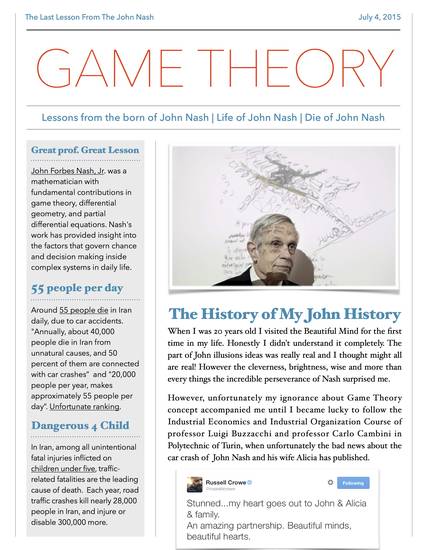 Article
The Last Lesson From John Nash
https://polito.academia.edu/SajjadKhaksari (2015)
Abstract
John Nash died in car accident that is maybe normal without any specific message for many people but in my opinion John Nash invited me to continue my study and my research about modeling transport systems and using of his Game Theory concept to create a future world transport and logistics more modern, more safe with high technologies. Would you like to follow John's last lesson and contribute your best to create a world full of logistics and safe public/private transport and zero dying in crash?
Keywords
John Forbes Nash; Jr.; car accident; study traffic; Game Theory and modeling transport systems; using of; Game Theory concept; future of transport and logistics world; safe public/private transport; zero dying in crash; Iran car crashes
Publication Date
Summer July 4, 2015
Citation Information
Sajjad Khaksari. "The Last Lesson From John Nash"
https://polito.academia.edu/SajjadKhaksari
(2015)
Available at: http://works.bepress.com/redbeardsajjad/19/
Creative Commons license
This work is licensed under a Creative Commons CC_BY-NC International License.