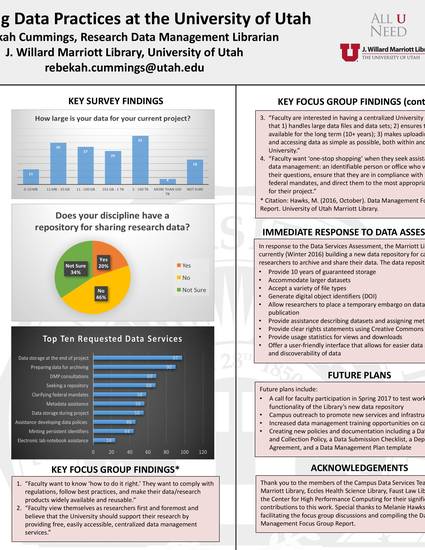 Presentation
Assessing Data Practices at the University of Utah
Research Reproducibility Conference (2016)
Abstract
Reproducibility is the gold standard of research, but often relies on a series of data management dependencies that are not common scientific practice. Data must be managed and documented to a degree that makes it understandable, meaningful and  reproducible to secondary audience depending on their definition of the term 'reproducibility'. Even small pieces of missing information like an unusual method that wasn't captured or small piece of code used for analysis can render results irreproducible. Data and code (where applicable) must be made available for secondary analysis, preferably in an open repository with supporting documentation, contact information, and clear rights attached. The University of Utah Campus Data Group – comprised of representatives from the Marriott Library, Eccles Health Science Library, Faust Law Library, and Research Computing & Center for High Performance Computing – strives to help researchers meet these dependencies by offering data management, storage, and sharing services and technical infrastructure for our research community
[\1]
. This poster will report on the Campus Data Group's 2016 University of Utah Research Data Services Assessment, which set out to answer three research questions:
1) What types of data and in what quantity are being produced at The University of Utah?
2.) How are research data produced by University of Utah researchers currently managed, stored, backed up, described, and shared?
3.) What data services can the Marriott Library, Eccles Health Sciences Library, Faust Law Library, and Research Computing & Center for High Performance Computing provide that will best support the needs of our research community?
The results of this assessment will shed light on current data practices at the University of Utah and inform the creation of new services and infrastructure to increase research transparency and replicability.
Keywords
data assessment,
data management,
data curation,
data services,
campus infrastructure
Publication Date
November, 2016
Location
Salt Lake City, UT
Citation Information
Rebekah Cummings. "Assessing Data Practices at the University of Utah"
Research Reproducibility Conference
(2016)
Available at: http://works.bepress.com/rebekah_cummings/6/