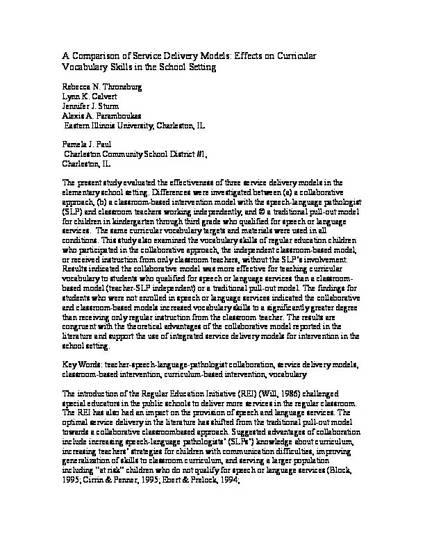 Article
A Comparison of Service Delivery Models: Effects on Curricular Vocabulary Skills in the School Setting
American Journal of Speech-Language Pathology (2000)
Abstract
The present study evaluated the effectiveness of three service delivery models in the elementary school setting. Differences were investigated between (a) a collaborative approach, (b) a classroom-based intervention model with the speech-language pathologist (SLP) and classroom teachers working independently, and (c) a traditional pull-out model for children in kindergarten through third grade who qualified for speech or language services. The same curricular vocabulary targets and materials were used in all conditions. This study also examined the vocabulary skills of regular education children who participated in the collaborative approach, the independent classroom-based model, or received instruction from only classroom teachers, without the SLP's involvement. Results indicated the collaborative model was more effective for teaching curricular vocabulary to students who qualified for speech or language services than a classroom-based model (teacher-SLP independent) or a traditional pull-out model. The findings for students who were not enrolled in speech or language services indicated the collaborative and classroom-based models increased vocabulary skills to a significantly greater degree than receiving only regular instruction from the classroom teacher. The results are congruent with the theoretical advantages of the collaborative model reported in the literature and support the use of integrated service delivery models for intervention in the school setting.
Keywords
teacher-speech-languagepathologist collaboration,
service delivery models,
classroom-based intervention,
curriculum-based intervention,
vocabulary
Publication Date
February, 2000
Citation Information
Rebecca Throneburg, Lynn K. Calvert, Jennifer J. Sturm, Alexis A. Paramboukas, et al.. "A Comparison of Service Delivery Models: Effects on Curricular Vocabulary Skills in the School Setting"
American Journal of Speech-Language Pathology
Vol. 9 (2000)
Available at: http://works.bepress.com/rebecca_throneburg/4/