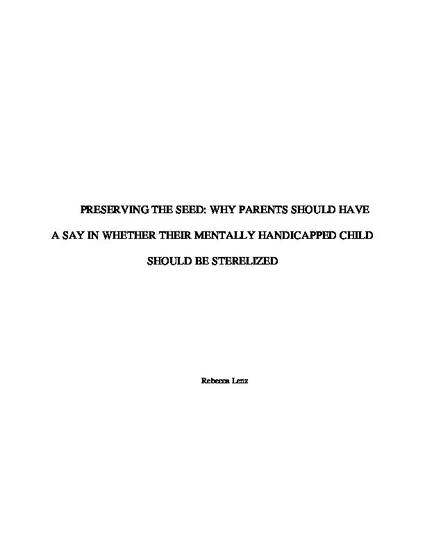 Unpublished Paper
PRESERVING THE SEED: WHY PARENTS SHOULD HAVE A SAY IN WHETHER THEIR MENTALLY HANDICAPPED CHILD SHOULD BE STERELIZED
ExpressO (2011)
Abstract
This article addresses the history of the eugenics movement, the current status of sterilization laws and the rights of parents to choose to sterilize their mentally handicapped child. Recently, North Carolina lawmakers have been pondering a way to compensate victims of unwanted sterilization that occurred in the early twentieth century. During the eugenics movement, many poor, uneducated women were sterilized against their will after being deemed feebleminded or mentally incompetent. Unfortunately, most of the victims were competent women and girls who were unable to fight for their right to reproduce. As a result, North Carolina lawmakers are trying to rectify the horrible injustice done to these women.
Publication Date
November 8, 2011
Citation Information
Rebecca Lenz. "PRESERVING THE SEED: WHY PARENTS SHOULD HAVE A SAY IN WHETHER THEIR MENTALLY HANDICAPPED CHILD SHOULD BE STERELIZED"
ExpressO
(2011)
Available at: http://works.bepress.com/rebecca_lenz/1/