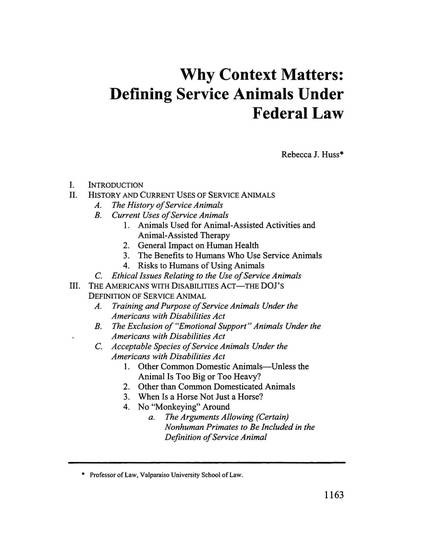 Article
Why Context Matters: Defining Service Animals Under Federal Law
Pepperdine Law Review (2010)
Abstract
This Article analyzes the differing definitions of service animals under federal law as interpreted by three separate agencies. The regulations and case law interpreting the issue under the Americans with Disabilities Act, the Fair Housing Act, and the Air Carrier Access Act illustrate the need for further clarification in order to ensure that individuals with disabilities are granted the full protection of the law.Note from Author: After the publication of this article, in July 2010, final regulations for the ADA were released. These final regulations can be found at 75 Fed. Reg. 56164 (Sept. 15, 2010) (applying to state and local government services) and 75 Fed. Reg. 56236 (Sept. 15, 2010) (applying to public accommodations and commercial facilities). The new regulations effective date is March 15, 2011. As anticipated, the final regulations track the proposed regulations discussed in this article to a large degree. The final regulations defined service animal as 'any dog . . .' but includes a provision for persons using miniature horses as service animals in certain circumstances. Non-human primates are not included in the definition of service animal.
Keywords
Animal,
Service Animal,
Diability,
Disabled
Publication Date
January 1, 2010
Citation Information
Rebecca J. Huss,
Why Context Matters: Defining Service Animals Under Federal Law
, 37
Pepp. L. Rev.
1163 (2010).