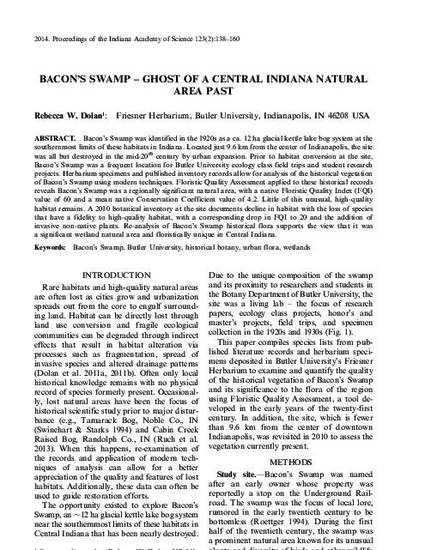 Article
Bacon's Swamp- Ghost of a Central Indiana Natural Area Past
Proceedings of the Indiana Academy of Science
Publication Date
1-1-2014
Additional Publication URL
http://www.indianaacademyofscience.org/Publications/Proceedings.aspx
Abstract
Bacon's Swamp was identified in the 1920s as a ca. 12 ha glacial kettle lake bog system at the southernmost limits of these habitats in Indiana. Located just 9.6 km from the center of Indianapolis, the site was all but destroyed in the mid-20th century by urban expansion. Prior to habitat conversion at the site, Bacon's Swamp was a frequent location for Butler University ecology class field trips and student research projects. Herbarium specimens and published inventory records allow for analysis of the historical vegetation of Bacon's Swamp using modern techniques. Floristic Quality Assessment applied to these historical records reveals Bacon's Swamp was a regionally significant natural area, with a native Floristic Quality Index (FQI) value of 60 and a mean native Conservation Coefficient value of 4.2. Little of this unusual, high-quality habitat remains. A 2010 botanical inventory at the site documents decline in habitat with the loss of species that have a fidelity to high-quality habitat, with a corresponding drop in FQI to 20 and the addition of invasive non-native plants. Re-analysis of Bacon's Swamp historical flora supports the view that it was a significant wetland natural area and floristically unique in Central Indiana.
Citation Information
Rebecca W. Dolan. "Bacon's Swamp- Ghost of a Central Indiana Natural Area Past"
Proceedings of the Indiana Academy of Science
Vol. 123 Iss. 2 (2014) p. 138 - 160
Available at: http://works.bepress.com/rebecca_dolan/66/