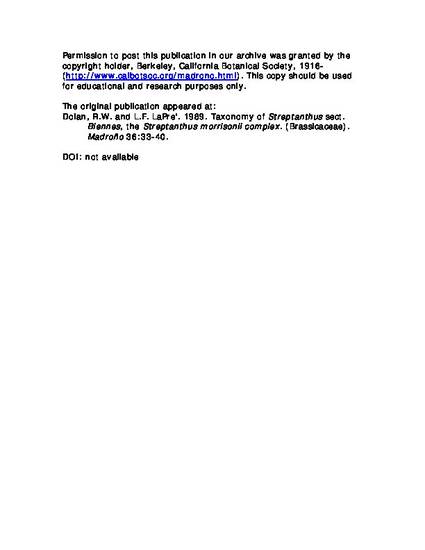 Article
Taxonomy of Streptanthus sect. Biennes, the Streptanthus morrisonii complex (Brassicaceae)
Madroño
Publication Date
1-1-1989
Additional Publication URL
http://www.jstor.org/stable/41424726
Abstract
The Streptanthus morrisonii complex is a six-taxon group of closely related serpentine rock outcrop endemics from Lake, Napa, and Sonoma counties of California, USA. Two new subspecies (S. morrisonii subsp. kruckebergii and S. brachiatus subsp. hoffmanii) from Lake County, California, are described. The relationship of these taxa to others in the section is reviewed and descriptions and a key are provided.
Rights
This article was archived with permission from the California Botanical Society, all rights reserved. Document is also available from Madroño.
Citation Information
Rebecca W. Dolan and Lawrence F. LaPre. "Taxonomy of Streptanthus sect. Biennes, the Streptanthus morrisonii complex (Brassicaceae)"
Madroño
Vol. 36 Iss. 1 (1989) p. 33 - 40
Available at: http://works.bepress.com/rebecca_dolan/27/