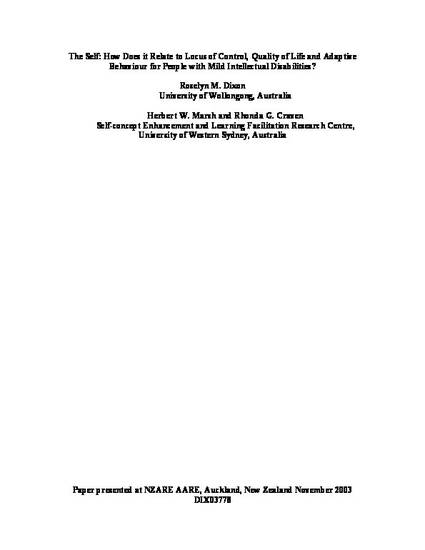 Presentation
The Self: How Does it Relate to Locus of Control, Quality of Life and Adaptive Behaviour for People with Mild Intellectual Disabilities?
Faculty of Education - Papers (Archive)
Publication Date
1-1-2003
Abstract
Research has found that when people with intellectual disabilities are moved from institutions into smaller community-based services, positive outcomes have been recorded. However, positive outcomes have not been inevitable. It is now recognised that mere placement in the community is not always sufficient. Individual characteristics of clients and the nature of services received in the community may be very significant to maintaining normalisation and social role valorisation. Areas that have consistently been found to have an impact on community-based living are the social competencies and affective functioning of people with intellectual disability. Given the recognised importance, it is surprising that these factors have not been the focus of more research in either the Australian or overseas context. This paper presents results from a study examining the social competence and affective functioning of people with intellectual disabilities. It describes the relations found for this population between multi-dimensional self- concept and locus of control, and quality of life.
Citation Information
Roselyn M Dixon, Herbert W. Marsh and Rhonda Craven. "The Self: How Does it Relate to Locus of Control, Quality of Life and Adaptive Behaviour for People with Mild Intellectual Disabilities?" (2003) p. 1 - 12
Available at: http://works.bepress.com/rdixon/9/