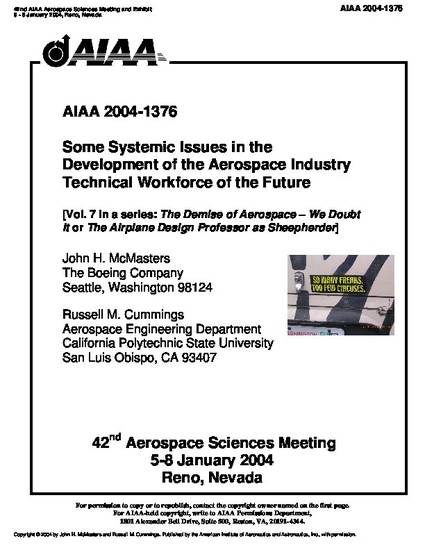 Article
Some Systemic Issues in the Development of the Aerospace Industry Technical Workforce of the Future
42nd Aerospace Sciences Meeting and Exhibit
Publication Date
1-5-2004
Abstract
This paper is a continuation of the authors' previous examinations of a suite of issues surrounding the putative decline in aeronautics in this country. The purpose of this paper is to discuss three specific issues believed to be of particular importance to the future of our industry. The first is the question of how many engineers we may need in our future as we confront the problem of an aging workforce and the globalization of our industry. The second is the question of what skills and abilities these engineers will need to possess as the overall industry continues to evolve. Finally, the need for more systems-oriented, multidisciplinary-skilled talent is addressed. A basic message of the paper carried on from earlier writings is that while aeronautics may indeed be a "maturing industry" (at least in some major traditional product areas), there is much that we can and should do to create a vision of our future as vivid as that which has driven our past as a means to attract and develop the talent needed to assure the future of our enterprise. Without this talent, few of the major technological advances that can be currently foreseen can come to fruition.
Citation Information
John H. McMasters and Russell M. Cummings. "Some Systemic Issues in the Development of the Aerospace Industry Technical Workforce of the Future"
42nd Aerospace Sciences Meeting and Exhibit
(2004) p. 1 - 15
Available at: http://works.bepress.com/rcumming/43/