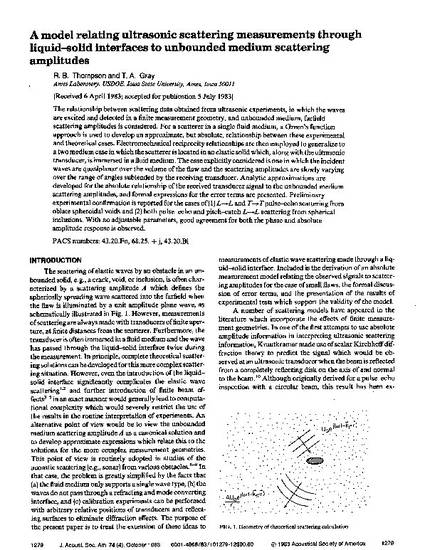 Article
A model relating ultrasonic scattering measurements through liquid–solid interfaces to unbounded medium scattering amplitudes
Journal of the Acoustical Society of America
Publication Date
10-1-1983
Abstract
The relationship between scattering data obtained from ultrasonic experiments, in which the waves are excited and detected in a finite measurement geometry, and unbounded medium, farfield scattering amplitudes is considered. For a scatterer in a single fluid medium, a Green's function approach is used to develop an approximate, but absolute, relationship between these experimental and theoretical cases. Electromechanical reciprocity relationships are then employed to generalize to a two medium case in which the scatterer is located in an elastic solid which, along with the ultrasonic transducer, is immersed in a fluid medium. The case explicitly considered is one in which the incident waves are quasiplanar over the volume of the flaw and the scattering amplitudes are slowly varying over the range of angles subtended by the receiving transducer. Analytic approximations are developed for the absolute relationship of the received transducer signal to the unbounded medium scattering amplitudes, and formal expressions for the error terms are presented. Preliminary experimental confirmation is reported for the cases of (1) L→L and T→T pulse–echo scattering from oblate spheroidal voids and (2) both pulse–echo and pitch–catch L→L scattering from spherical inclusions. With no adjustable parameters, good agreement for both the phase and absolute amplitude response is observed.
Copyright Owner
Acoustical Society of America
File Format
application/pdf
Citation Information
R. Bruce Thompson and T. A. Gray. "A model relating ultrasonic scattering measurements through liquid–solid interfaces to unbounded medium scattering amplitudes"
Journal of the Acoustical Society of America
Vol. 74 Iss. 4 (1983) p. 1279 - 1290
Available at: http://works.bepress.com/rbruce_thompson/37/