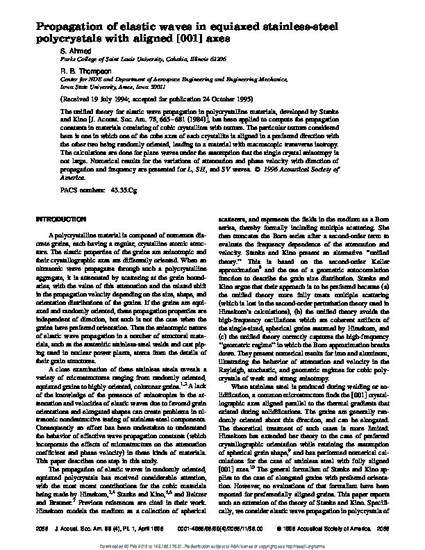 Article
Propagation of elastic waves in equiaxed stainless‐steel polycrystals with aligned [001] axes
Journal of the Acoustical Society of America
Publication Date
4-1-1996
Abstract
The unified theory for elastic wave propagation in polycrystalline materials, developed by Stanke and Kino [J. Acoust. Soc. Am. 75, 665–681 (1984)], has been applied to compute the propagation constants in materials consisting of cubic crystallites with texture. The particular texture considered here is one in which one of the cube axes of each crystallite is aligned in a preferred direction with the other two being randomly oriented, leading to a material with macroscopic transverse isotropy. The calculations are done for plane waves under the assumption that the single crystal anisotropy is not large. Numerical results for the variations of attenuation and phase velocity with direction of propagation and frequency are presented for L, SH, and SVwaves.
Copyright Owner
Acoustical Society of America
File Format
application/pdf
Citation Information
Salahuddin Ahmed and R. Bruce Thompson. "Propagation of elastic waves in equiaxed stainless‐steel polycrystals with aligned [001] axes"
Journal of the Acoustical Society of America
Vol. 99 Iss. 4 (1996) p. 2086 - 2096
Available at: http://works.bepress.com/rbruce_thompson/10/