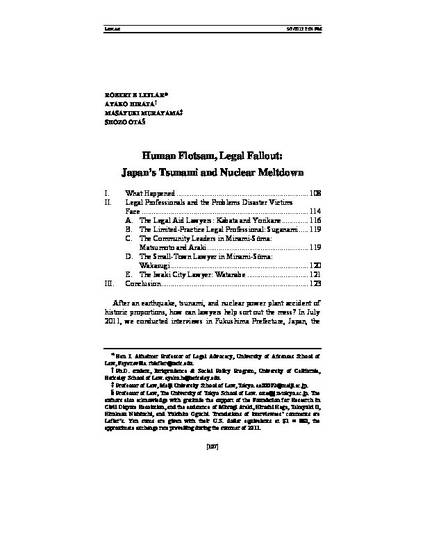 Article
Human Flotsam, Legal Fallout: Japan's Tsunami and Nuclear Meltdown
Journal of Environmental Law & Litigation (2012)
Abstract
We report on our field research in Fukushima Prefecture in July 2011. We interviewed legal professionals and community leaders in Fukushima City and in towns inundated by the March 2011 tsunami and within a few kilometers of Fukushima No. 1 nuclear reactor. We catalogued many of the extensive variety of problems faced by Fukushima residents, both evacuees and those who remained in their homes. Many of these problems, both legal and non-legal, arose from government actions as the disaster unfolded and afterwards, including the administration of the initial program for provisional compensation for disaster victims. We learned that in the wake of disaster, legal professionals (attorneys and shihō shoshi, a class of professionals with limited licenses) play a wide variety of roles in disaster recovery assistance: as listeners, general information providers, problem identifiers, general counselors, legal counselors, advocates on behalf of disaster victims, coordinators in relief efforts, and planners for recovery measures. We give examples of each, drawing on our interviewees' experiences.
Keywords
disaster,
Fukushima,
nuclear accident,
legal profession,
compensation systems
Citation Information
Robert B Leflar, Ayako Hirata, Masayuki Murayama and Shozo Ota. "Human Flotsam, Legal Fallout: Japan's Tsunami and Nuclear Meltdown"
Journal of Environmental Law & Litigation
Vol. 27 (2012)
Available at: http://works.bepress.com/rbleflar/3/