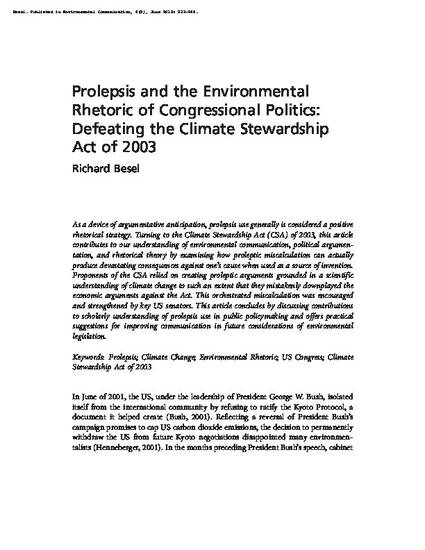 Article
Prolepsis and the Environmental Rhetoric of Congressional Politics: Defeating the Climate Stewardship Act of 2003
Environmental Communication
Publication Date
6-1-2012
Abstract
As a device of argumentative anticipation, prolepsis use generally is considered a positive rhetorical strategy. Turning to the Climate Stewardship Act (CSA) of 2003, this article contributes to our understanding of environmental communication, political argumentation, and rhetorical theory by examining how proleptic miscalculation can actually produce devastating consequences against one's cause when used as a source of invention. Proponents of the CSA relied on creating proleptic arguments grounded in a scientific understanding of climate change to such an extent that they mistakenly downplayed the economic arguments against the Act. This orchestrated miscalculation was encouraged and strengthened by key US senators. This article concludes by discussing contributions to scholarly understanding of prolepsis use in public policymaking and offers practical suggestions for improving communication in future considerations of environmental legislation.
Citation Information
Richard Besel. "Prolepsis and the Environmental Rhetoric of Congressional Politics: Defeating the Climate Stewardship Act of 2003"
Environmental Communication
Vol. 6 Iss. 2 (2012) p. 233 - 249
Available at: http://works.bepress.com/rbesel/11/