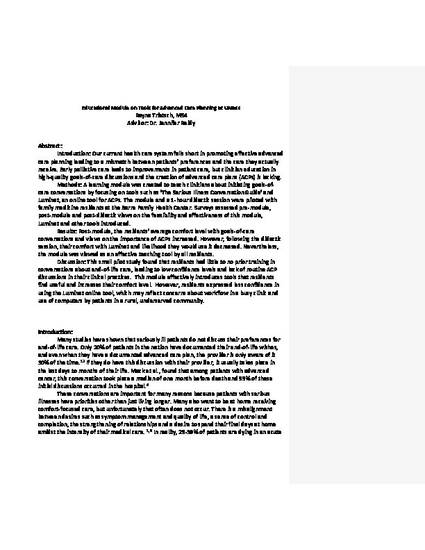 Unpublished Paper
Educational Module on Tools for Advanced Care Planning at UMass
(2017)
Abstract
Introduction: Our current health care system falls short in promoting effective advanced care planning leading to a mismatch between patients' preferences and the care they actually receive. Early palliative care leads to improvements in patient care, but clinician education in high-quality goals-of-care discussions and the creation of advanced care plans (ACPs) is lacking.
Methods: A learning module was created to teach clinicians about initiating goals-of-care conversations by focusing on tools such as 'The Serious Illness Conversation Guide' and Luminat, an online tool for ACPs. The module and a 1-hour didactic session were piloted with family medicine residents at the Barre Family Health Center. Surveys assessed pre-module, post-module and post-didactic views on the feasibility and effectiveness of this module, Luminat and other tools introduced.
Results: Post-module, the residents' average comfort level with goals-of-care conversations and views on the importance of ACPs increased. However, following the didactic session, their comfort with Luminat and likelihood they would use it decreased. Nevertheless, the module was viewed as an effective teaching tool by all residents.
Discussion: This small pilot study found that residents had little to no prior training in conversations about end-of-life care, leading to low confidence levels and lack of routine ACP discussions in their clinical practices. This module effectively introduces tools that residents find useful and increases their comfort level. However, residents expressed less confidence in using the Luminat online tool, which may reflect concerns about workflow in a busy clinic and use of computers by patients in a rural, underserved community.
Publication Date
Spring March 6, 2017
Citation Information
Rayna Trietsch. "Educational Module on Tools for Advanced Care Planning at UMass" (2017)
Available at: http://works.bepress.com/rayna-trietsch/2/