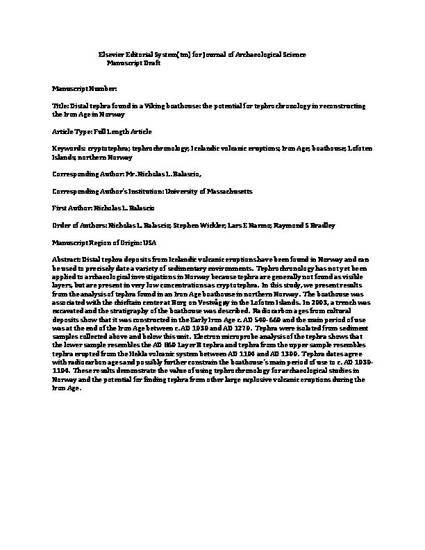 Article
Distal tephra found in a Viking boathouse: the potential for tephrochronology in reconstructing the Iron Age in Norway
Journal of Archeological Science (2011)
Abstract
Distal tephra deposits from Icelandic volcanic eruptions have been found in Norway and can be used to precisely date a variety of sedimentary environments. Tephrochronology has not yet been applied to archaeological investigations in Norway because tephra are generally not found as visible layers, but are present as very low concentrations of glass shards (i.e. cryptotephra). In this study, we present results from the analysis of cryptotephras found in an Iron Age boathouse in northern Norway. The boathouse was associated with the chieftain center at Borg on Vestvågøy in the Lofoten Islands. In 2003, a trench was excavated and the stratigraphy of the boathouse was described. Radiocarbon ages from cultural deposits show that it was constructed in the Early Iron Age c. AD 540e660 and the main period of use was at the end of the Iron Age between c. AD 1030 and AD 1270. Volcanic glass shards were isolated from sediment samples collected above and below the cultural deposit representing the main period of use. Electron microprobe analysis of the glass shards showed that the lower sample resembles the AD 860 Layer B tephra and the upper sample resembles tephra erupted from the Hekla volcanic system between AD 1104 and AD 1300. These tephrochronologic dates agree with the radiocarbon-derived dates and possibly further constrain the boathouse's main period of use to c. AD 1030e1104. Our results demonstrate the value of using tephrochronology for archaeological studies in Norway and the potential for finding cryptotephra from other large explosive volcanic eruptions during the Iron Age.
Keywords
archeology,
Iron Age,
Viking,
Norway,
tephra
Citation Information
Nicholas L Balascio, Stephen Wickler, L E Narmo and Raymond S Bradley. "Distal tephra found in a Viking boathouse: the potential for tephrochronology in reconstructing the Iron Age in Norway"
Journal of Archeological Science
Vol. 38 (2011)
Available at: http://works.bepress.com/raymond_bradley/81/