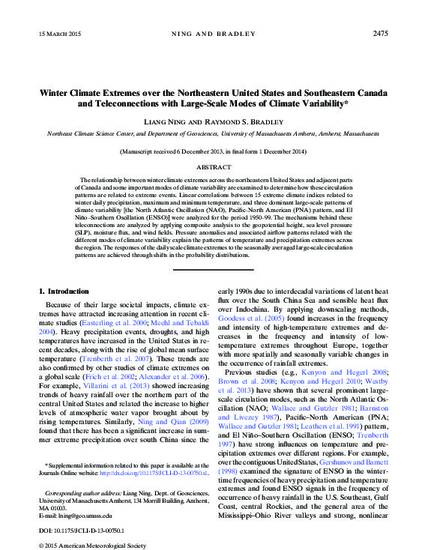 Article
Winter climate extremes over the northeastern United States and southeastern Canada and teleconnections with large-scale modes of climate variability
Journal of Climate (2015)
Abstract
The relationship between winter climate extremes across the northeastern United States and adjacent parts of Canada and some important modes of climate variability are examined to determine how these circulation patterns are related to extreme events. Linear correlations between 15 extreme climate indices related to winter daily precipitation, maximum and minimum temperature, and three dominant large-scale patterns of climate variability [the North Atlantic Oscillation (NAO), Pacific–North American (PNA) pattern, and El Niño–Southern Oscillation (ENSO)] were analyzed for the period 1950–99. The mechanisms behind these teleconnections are analyzed by applying composite analysis to the geopotential height, sea level pressure (SLP), moisture flux, and wind fields. Pressure anomalies and associated airflow patterns related with the different modes of climate variability explain the patterns of temperature and precipitation extremes across the region. The responses of the daily scale climate extremes to the seasonally averaged large-scale circulation patterns are achieved through shifts in the probability distributions.
Keywords
teleconnections,
ENSO,
NAO,
PNA
Citation Information
Liang Ning and Raymond S Bradley. "Winter climate extremes over the northeastern United States and southeastern Canada and teleconnections with large-scale modes of climate variability"
Journal of Climate
Vol. 28 (2015)
Available at: http://works.bepress.com/raymond_bradley/69/