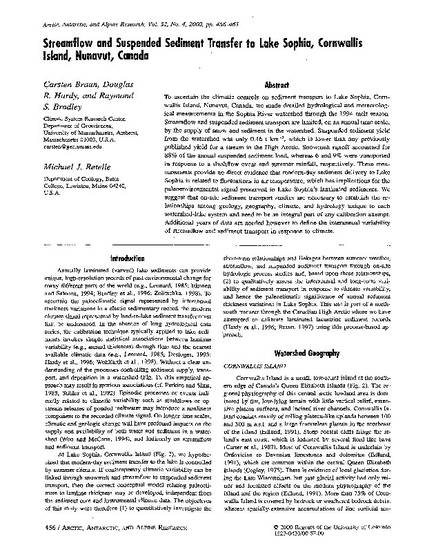 Article
Streamflow and Suspended Sediment Transfer to Lake Sophia, Cornwallis Island, Nunavut, Canada
Arctic, Antarctic, and Alpine Research (2000)
Abstract
To ascertain the climatic controls on sediment transport to Lake Sophia, Comwallis Island, Nunavut, Canada, we made detailed hydrological and meteorological measurements in the Sophia River watershed through the 1994 melt season. Streamflow and suspended sediment transport are limited, on an annual time scale, by the supply of snow and sediment in the watershed. Suspended sediment yield from the watershed was only 0.46 t k:m-2, which is lower than any previously published yield for a stream in the High Arctic. Snowmelt rgnoff accounted for 88% of the annual suspended sediment load, whereas 6 and 9% were transported in response to a slushflow event and summer rainfall, respectively. These measurements provide no direct evidence that modem-day sediment delivery to Lake Sophia is related to fluctuations in air temperature, which has implications for the paleoenvironmental signal preserved in Lake Sophia's laminated sediments. We suggest that on-site sediment transport studies are necessary to establish the relationships among geology, geography, climate, and hydrology unique to each watershed-lake system and need to be an integral part of any calibration attempt. Additional years of data are needed however to define the interannual variability of streamflow and sediment transport in response to climate.
Citation Information
Carsten Braun, Douglas R. Hardy, Raymond S. Bradley and Michael J. Retelle. "Streamflow and Suspended Sediment Transfer to Lake Sophia, Cornwallis Island, Nunavut, Canada"
Arctic, Antarctic, and Alpine Research
Vol. 32 Iss. 4 (2000)
Available at: http://works.bepress.com/raymond_bradley/59/