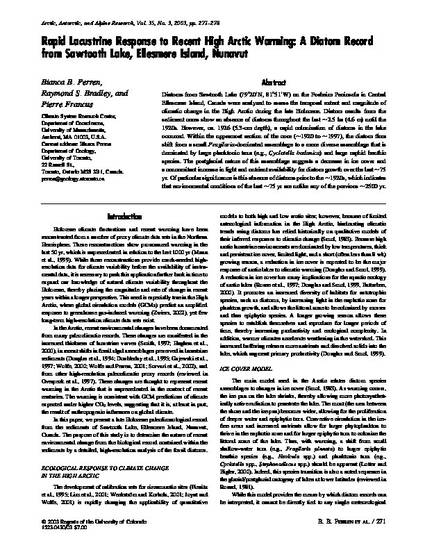 Article
Rapid Lacustrine Response to Recent High Arctic Warming: A Diatom Record from Sawtooth Lake, Ellesmere Island, Nunavut
Arctic, Antarctic, and Alpine Research (2003)
Abstract
Diatoms from Sawtooth Lake (79 20'N, 81 51'W) on the Fosheim Peninsula in Central Ellesmere Island, Canada were analyzed to assess the temporal extent and magnitude of climatic change in the High Arctic during the late Holocene. Diatom results from the sediment cores show an absence of diatoms throughout the last ;2.5 ka (4.6 m) until the 1920s. However, ca. 1926 (5.3-cm depth), a rapid colonization of diatoms in the lake occurred. Within the uppermost section of the core (;1920 to ;1997), the diatom flora shift from a small Fragilaria-dominated assemblage to a more diverse assemblage that is dominated by large planktonic taxa (e.g., Cyclotella bodanica) and large raphid benthic species. The postglacial nature of this assemblage suggests a decrease in ice cover and a concomitant increase in light and nutrient availability for diatom growth over the last ;75 yr. Of particular significance is this absence of diatoms prior to the ;1920s, which indicates that environmental conditions of the last ;75 yr are unlike any of the previous ;2500 yr.
Citation Information
Bianca B. Perren, Raymond S. Bradley and Pierre Francus. "Rapid Lacustrine Response to Recent High Arctic Warming: A Diatom Record from Sawtooth Lake, Ellesmere Island, Nunavut"
Arctic, Antarctic, and Alpine Research
Vol. 35 Iss. 3 (2003)
Available at: http://works.bepress.com/raymond_bradley/49/