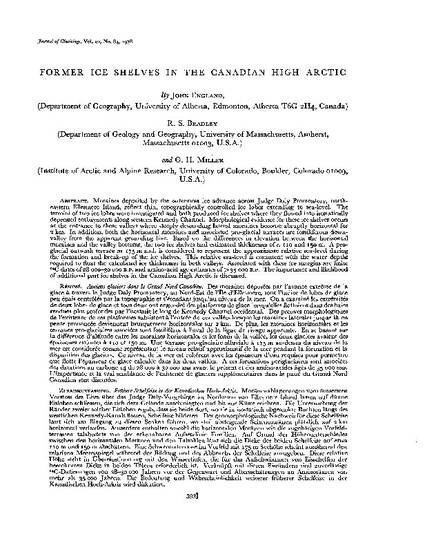 Article
Former Ice Shelves in the Canadian High Arctic
Journal of Glaciology (1978)
Abstract
ABSTRACT. Moraines deposited by the outermost ice advance across Judge Daly Promontory, northeastern Ellesmere Island, reflect thin, topographically controlled ice lobes extending to sea-level. The termini of two ice lobes were investigated and both produced ice shelves where they flowed into isostatically depressed embayments along western Kennedy Channel. Morphological evidence for these ice shelves occurs at the entrance to these valleys where steeply descending lateral moraines become abruptly horizontal for 2 km. In addition, both the horizontal moraines and associated pro-glacial terraces are fossiliferous downvalley from the apparent grounding line. Based on the differences in elevation between the horizontal moraines and the valley bottoms, the two ice shelves had estimated thicknesses of c. 110 and 150 m. A proglacial outwash terrace at 175 m a.s.l. is considered to represent the approximate relative sea-level during the formation and break-up of the ice shelves. This relative sea-level is consistent with the water depths required to float the calculated ice thicknesses in both valleys. Associated with these ice margins are finite 14C dates of 28 000-30 000 B.P. and amino-acid age estimates of> 35 000 B.P. The importance and likelihood of additional past ice shelves in the Canadian High Arctic is discussed.
Citation Information
John England, Raymond S Bradley and G. H. Miller. "Former Ice Shelves in the Canadian High Arctic"
Journal of Glaciology
Vol. 20 Iss. 83 (1978)
Available at: http://works.bepress.com/raymond_bradley/42/