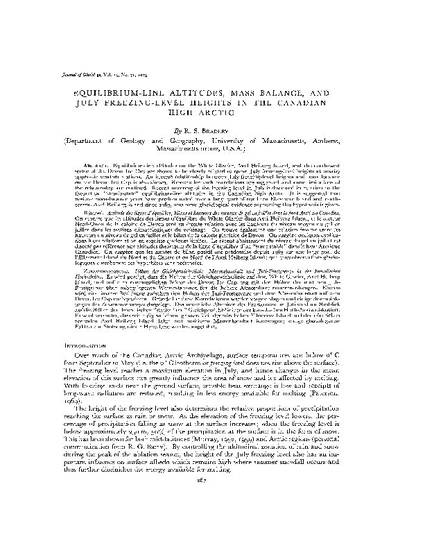 Article
Equilibrium-Line Altitudes, Mass Balance, and July Freezing-Level Heights in the Canadian High Arctic
Journal of Glaciology (1975)
Abstract
Equilibrium-line altitudes on the White Glacier, Axel Heiberg Island, and the north-west sector of the Devon Ice Cap are shown to be closely related to mean July freezing-level heights at nearby upper-air weather stations. An inverse relationship between July freezing-level heights and mass balance on the Devon Ice Cap is also shown. Reasons for such correlations are suggested and some limitations of the relationship are outlined. Recent lowering of the freezing level in July is discussed in relation to the theoretical "steady-state" equilibrium-line altitudes in the Canadian high Arctic. It is suggested that positive mass-balance years have predominated over a large part of northern Ellesmere Island and northcentral Axel Heiberg Island since 1963, and some glaciological evidence supporting this hypothesis is given.
Citation Information
Raymond S Bradley. "Equilibrium-Line Altitudes, Mass Balance, and July Freezing-Level Heights in the Canadian High Arctic"
Journal of Glaciology
Vol. 14 Iss. 71 (1975)
Available at: http://works.bepress.com/raymond_bradley/41/