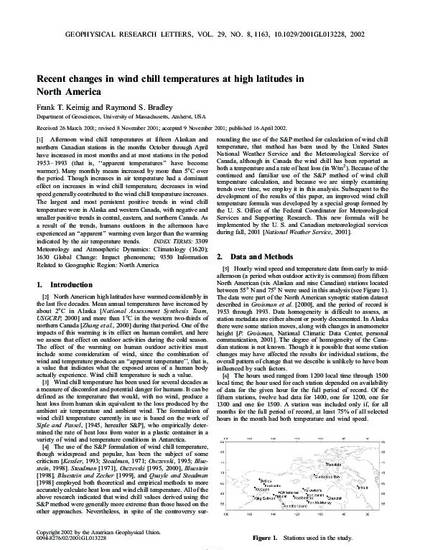 Article
Recent Changes in Wind Chill Temperatures at High Latitudes in North America
Geophysical Research Letters (2001)
Abstract
Afternoon wind chill temperatures at fifteen Alaskan and northern Canadian stations in the months October through April have increased in most months and at most stations in the period 1953–1993 (that is, "apparent temperatures" have become warmer). Many monthly means increased by more than 5°C over the period. Though increases in air temperature had a dominant effect on increases in wind chill temperature, decreases in wind speed generally contributed to the wind chill temperature increases. The largest and most persistent positive trends in wind chill temperature were in Alaska and western Canada, with negative and smaller positive trends in central, eastern, and northern Canada. As a result of the trends, humans outdoors in the afternoon have experienced an "apparent" warming even larger than the warming indicated by the air temperature trends.
Citation Information
H. F Keimig and Raymond S Bradley. "Recent Changes in Wind Chill Temperatures at High Latitudes in North America"
Geophysical Research Letters
Vol. 29 (2001)
Available at: http://works.bepress.com/raymond_bradley/15/