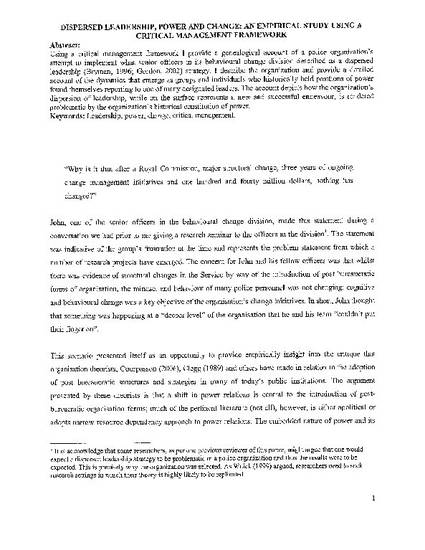 Article
Dispersed leadership, power and change: An empirical study using a critical management framework
Australia and New Zealand Academy of Management 22nd ANZAM Conference 2008: Managing in the Pacific Century
Date of this Version
12-5-2008
Document Type
Conference Paper
Abstract
Using a critical management framework I provide a genealogical account of a police organization's attempt to implement what senior officers in its behavioural change division described as a dispersed leadership (Bryman, 1996; Gordon, 2002) strategy. I describe the organization and provide a detailed account of the dynamics that emerge as groups and individuals who historically held positions of power found themselves reporting to one of many designated leaders. The account depicts how the organization's dispersion of leadership, while on the surface represents a new and successful endeavour, is rendered problematic by the organization's historical constitution of power.
Citation Information
Ray Gordon. "Dispersed leadership, power and change: An empirical study using a critical management framework"
Australia and New Zealand Academy of Management 22nd ANZAM Conference 2008: Managing in the Pacific Century
(2008)
Available at: http://works.bepress.com/ray_gordon/13/