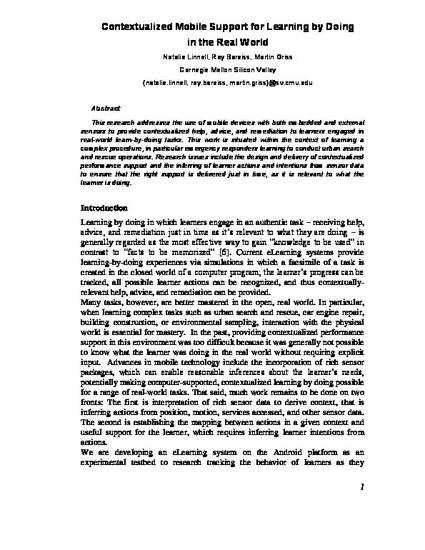 Article
Contextualized Mobile Support for Learning by Doing in the Real World
Ubiquitous Learning: An International Journal (2011)
Abstract
This research addresses the use of mobile devices with both embedded and external sensors to provide contextualized help, advice, and remediation to learners engaged in real-world learn-by-doing tasks. This work is situated within the context of learning a complex procedure, in particular emergency responders learning to conduct urban search and rescue operations. Research issues include the design and delivery of contextualized performance support and the inferring of learner actions and intentions from sensor data to ensure that the right support is delivered just in time, as it is relevant to what the learner is doing.
Citation Information
Ray Bareiss, Natalie Linnell and Martin Griss. "Contextualized Mobile Support for Learning by Doing in the Real World"
Ubiquitous Learning: An International Journal
(2011)
Available at: http://works.bepress.com/ray_bareiss/9/