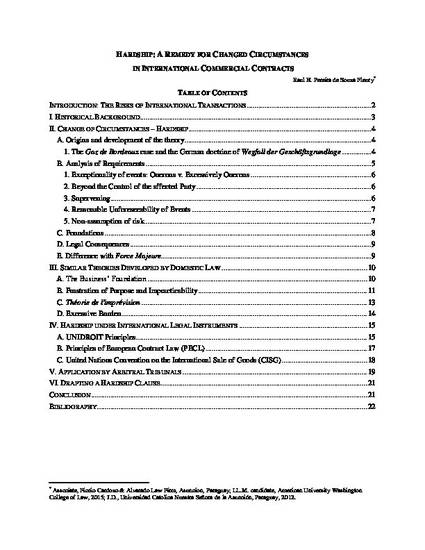 Unpublished Paper
HARDSHIP: A REMEDY FOR CHANGED CIRCUMSTANCES IN INTERNATIONAL COMMERCIAL CONTRACTS
ExpressO (2015)
Abstract
Long-term commercial transactions can transform into an agreement far different than the anticipated by the parties due to unforeseeable circumstances. In the international field such possibility is greater. This places a hard burden to business persons around the globe, since their mutual purpose is to see their business transaction achieve its goal. In trying to assess and manage the potential negative effects of changed circumstances, international business practice had developed the hardship clause. This article focus on the historical origin and development of the hardship clause, its requirements, the adoption of similar remedies by domestic legislation, and how it has been addressed by national courts and international arbitral tribunals. The effectiveness and efficiency of the hardship clause have been proven in international practice, as a mechanism to alleviate, or even eliminate, the adverse effects that changed circumstances might have upon a long-term contract.
Keywords
hardship,
changed circumstances,
force majeure,
international business transactions,
impracticability,
frustration,
excessive burden
Publication Date
March 18, 2015
Citation Information
Raul Henrique Pereira de Souza Fleury. "HARDSHIP: A REMEDY FOR CHANGED CIRCUMSTANCES IN INTERNATIONAL COMMERCIAL CONTRACTS"
ExpressO
(2015)
Available at: http://works.bepress.com/raul_pereiradesouzafleury/1/