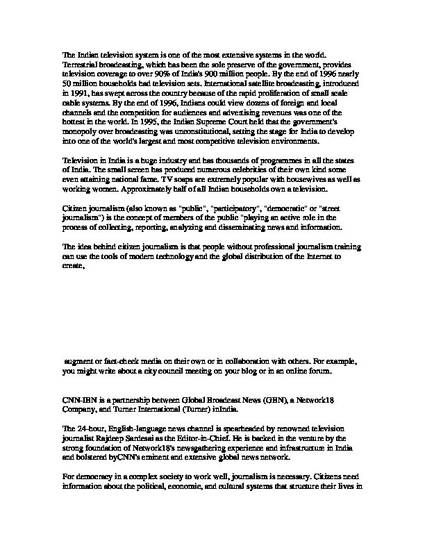 Article
Changing Mutual Perception of Television News Viewers and Program Makers in India- A Case Study of CNN-IBN and Its Unique Initiative of Citizen Journalism
Pragyan:A Journal of Mass Communication (2010)
Abstract
The Indian television system is one of the most extensive systems in the world. Terrestrial broadcasting, which has been the sole preserve of the government, provides television coverage to over 90% of India's 900 million people. By the end of 1996 nearly 50 million households had television sets. International satellite broadcasting, introduced in 1991, has swept across the country because of the rapid proliferation of small scale cable systems. By the end of 1996, Indians could view dozens of foreign and local channels and the competition for audiences and advertising revenues was one of the hottest in the world. In 1995, the Indian Supreme Court held that the government's monopoly over broadcasting was unconstitutional, setting the stage for India to develop into one of the world's largest and most competitive television environments. Television in India is a huge industry and has thousands of programmes in all the states of India. The small screen has produced numerous celebrities of their own kind some even attaining national fame. TV soaps are extremely popular with housewives as well as working women. Approximately half of all Indian households own a television. Citizen journalism (also known as "public", "participatory", "democratic" or "street journalism") is the concept of members of the public "playing an active role in the process of collecting, reporting, analyzing and disseminating news and information. The idea behind citizen journalism is that people without professional journalism training can use the tools of modern technology and the global distribution of the Internet to create, augment or fact-check media on their own or in collaboration with others. For example, you might write about a city council meeting on your blog or in an online forum. CNN-IBN is a partnership between Global Broadcast News (GBN), a Network18 Company, and Turner International (Turner) inIndia. The 24-hour, English-language news channel is spearheaded by renowned television journalist Rajdeep Sardesai as the Editor-in-Chief. He is backed in the venture by the strong foundation of Network18's newsgathering experience and infrastructure in India and bolstered byCNN's eminent and extensive global news network. For democracy in a complex society to work well, journalism is necessary. Citizens need information about the political, economic, and cultural systems that structure their lives in order to act on them effectively. However, traditional news institutions have had major failures in their ability to adequately cover new dscussion. The magnitude and interest in Citizen Journalism is quite new, although forms of it have existed through much of modern history.At least in theory it could represent an important pathway in the development of a networked civil society that brings about democratization change.
Keywords
Broadcasting,
Audience Metrics,
TAM,
CNN-IBN,
Citizen Journalism
Publication Date
Winter December, 2010
Citation Information
Ratnesh Dwivedi. "Changing Mutual Perception of Television News Viewers and Program Makers in India- A Case Study of CNN-IBN and Its Unique Initiative of Citizen Journalism"
Pragyan:A Journal of Mass Communication
Vol. 8 Iss. 2 (2010)
Available at: http://works.bepress.com/ratnesh_dwivedi/8/