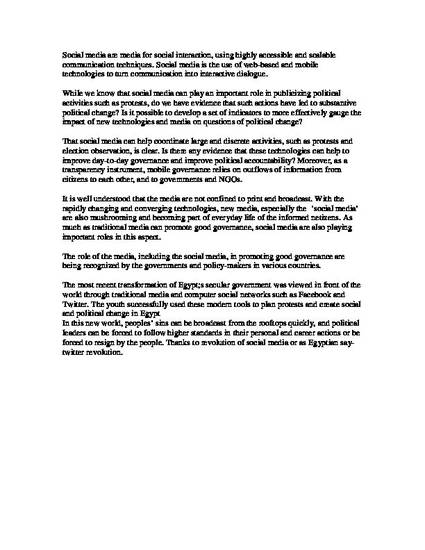 Article
The Penetration of Social Media in Governance,Political Reforms and Building Public Perception
Manthan:International Journal of Mass Communication (2011)
Abstract
Social media are media for social interaction, using highly accessible and scalable communication techniques. Social media is the use of web-based and mobile technologies to turn communication into interactive dialogue. While we know that social media can play an important role in publicizing political activities such as protests, do we have evidence that such actions have led to substantive political change? Is it possible to develop a set of indicators to more effectively gauge the impact of new technologies and media on questions of political change? That social media can help coordinate large and discrete activities, such as protests and election observation, is clear. Is there any evidence that these technologies can help to improve day-to-day governance and improve political accountability? Moreover, as a transparency instrument, mobile governance relies on outflows of information from citizens to each other, and to governments and NGOs. It is well understood that the media are not confined to print and broadcast. With the rapidly changing and converging technologies, new media, especially the 'social media' are also mushrooming and becoming part of everyday life of the informed netizens. As much as traditional media can promote good governance, social media are also playing important roles in this aspect. The role of the media, including the social media, in promoting good governance are being recognized by the governments and policy-makers in various countries. The most recent transformation of Egypt;s secular government was viewed in front of the world through traditional media and computer social networks such as Facebook and Twitter. The youth successfully used these modern tools to plan protests and create social and political change in Egypt In this new world, peoples' sins can be broadcast from the rooftops quickly, and political leaders can be forced to follow higher standards in their personal and career actions or be forced to resign by the people. Thanks to revolution of social media or as Egyptian say-twitter revolution.
Keywords
Facebook,
Twitter,
Public Opinion,
Political Reform,
Governance,
Middle East,
Internet
Publication Date
Summer June, 2011
Citation Information
Ratnesh Dwivedi. "The Penetration of Social Media in Governance,Political Reforms and Building Public Perception"
Manthan:International Journal of Mass Communication
Vol. 6 Iss. 1 (2011)
Available at: http://works.bepress.com/ratnesh_dwivedi/4/