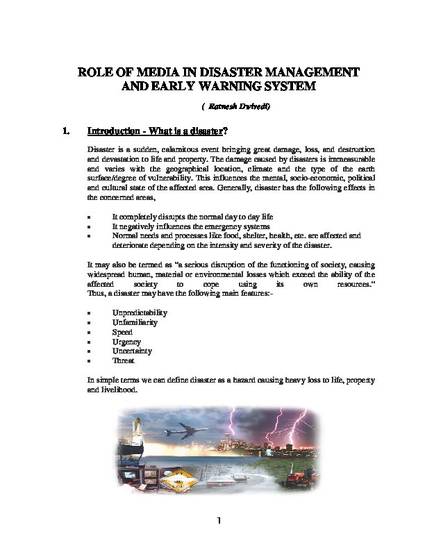 Article
Role of Media in Disaster Management and Early Warning
Amity Institute of Disaster Management (2010)
Abstract
Disaster is a sudden, calamitous event bringing great damage, loss, and destruction and devastation to life and property. The damage caused by disasters is immeasurable and varies with the geographical location, climate and the type of the earth surface/degree of vulnerability. This influences the mental, socio-economic, political and cultural state of the affected area. Generally, disaster has the following effects in the concerned areas, • It completely disrupts the normal day to day life • It negatively influences the emergency systems • Normal needs and processes like food, shelter, health, etc. are affected and deteriorate depending on the intensity and severity of the disaster. It may also be termed as "a serious disruption of the functioning of society, causing widespread human, material or environmental losses which exceed the ability of the affected society to cope using its own resources." Thus, a disaster may have the following main features:- • Unpredictability • Unfamiliarity • Speed • Urgency • Uncertainty • Threat In simple terms we can define disaster as a hazard causing heavy loss to life, property and livelihood. When we talk of disaster we assume that a catastrophe has occurred in ways that the natural laws of nature have been violated or disrupted. There is disarray, confusion and panic. The dictionary defines disaster as: An occurrence causing widespread destruction and distress. A grave misfortune; a total failure; an evil influence of a celestial body; a calamity of great destruction; Hardships and loss of life; Grief; and tragic outcome with irreparable loss. One definition is, "situations characterized by surprise, high threats to important values, and a short decision time" Another goes as follows: - "A disruption that physically affects a system as a whole and threatens its basic assumptions, its subjective sense of self, and its existence core". In industry or production plants they define disaster as: "An extraordinary event or series of events that adversely affect the integrity of the product the reputation or financial stability of the organization or health of the well-being of employees, community or the public at large. In the modern technology of satellite, disasters can be prevented, controlled and bad effects made manageable and minimized. We are no longer in the Stone Age where disaster should come as if we are helpless victims of God's wrath.
Keywords
Disaster,
Early Warning,
Preparedness,
Response,
Mitigation,
Flood,
Earthquake
Publication Date
Summer June 1, 2010
Citation Information
Ratnesh Dwivedi. "Role of Media in Disaster Management and Early Warning"
Amity Institute of Disaster Management
(2010)
Available at: http://works.bepress.com/ratnesh_dwivedi/27/