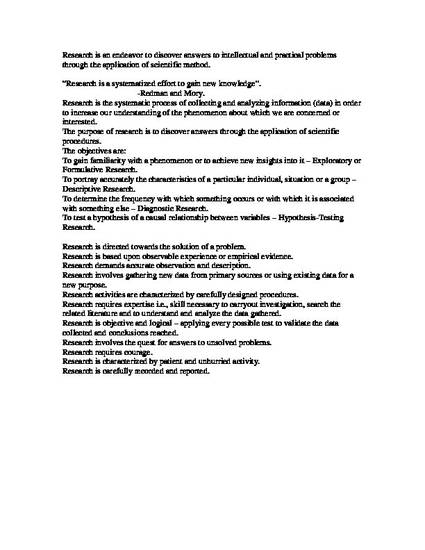 Presentation
-"An Analysis of Concepts,Componants and Tools of Research Process and Methodologies"
Kazakhstan communication association and Kazakhstan multidisciplinary institution "Parasat" (2012)
Abstract
Research is an endeavor to discover answers to intellectual and practical problems through the application of scientific method. "Research is a systematized effort to gain new knowledge". -Redman and Mory. Research is the systematic process of collecting and analyzing information (data) in order to increase our understanding of the phenomenon about which we are concerned or interested. The purpose of research is to discover answers through the application of scientific procedures. The objectives are: To gain familiarity with a phenomenon or to achieve new insights into it – Exploratory or Formulative Research. To portray accurately the characteristics of a particular individual, situation or a group – Descriptive Research. To determine the frequency with which something occurs or with which it is associated with something else – Diagnostic Research. To test a hypothesis of a causal relationship between variables – Hypothesis-Testing Research. Research is directed towards the solution of a problem. Research is based upon observable experience or empirical evidence. Research demands accurate observation and description. Research involves gathering new data from primary sources or using existing data for a new purpose. Research activities are characterized by carefully designed procedures. Research requires expertise i.e., skill necessary to carryout investigation, search the related literature and to understand and analyze the data gathered. Research is objective and logical – applying every possible test to validate the data collected and conclusions reached. Research involves the quest for answers to unsolved problems. Research requires courage. Research is characterized by patient and unhurried activity. Research is carefully recorded and reported.
Keywords
Research Methodology,
Litreture Review,
Data Analysis,
Source Card,
Sample
Publication Date
Spring April 27, 2012
Citation Information
Ratnesh Dwivedi. "-"An Analysis of Concepts,Componants and Tools of Research Process and Methodologies""
Kazakhstan communication association and Kazakhstan multidisciplinary institution "Parasat"
(2012)
Available at: http://works.bepress.com/ratnesh_dwivedi/16/