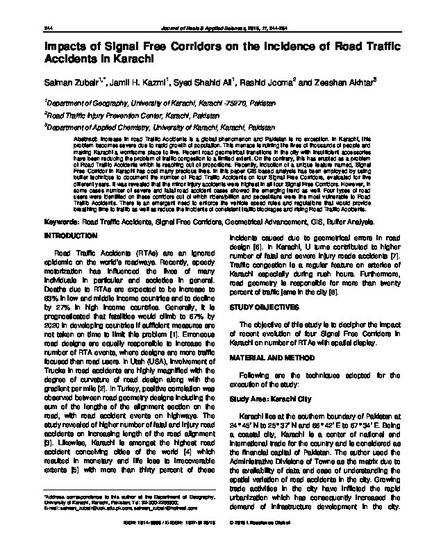 Article
Impacts of signal free corridors on the incidence of road traffic accidents in Karachi
Journal of Basic & Applied Sciences
Publication Date
1-1-2015
Abstract
Abstract: Increase in road Traffic Accidents is a global phenomenon and Pakistan is no exception. In Karachi, this problem becomes severe due to rapid growth of population. This menace is ruining the lives of thousands of people and making Karachi a worrisome place to live. Recent road geometrical transitions in the city with insufficient accessories have been reducing the problem of traffic congestion to a limited extent. On the contrary, this has erupted as a problem of Road Traffic Accidents which is reaching out of proportions. Recently, induction of a unique feature named, Signal Free Corridor in Karachi has cost many precious lives. In this paper GIS based analysis has been employed by using buffer technique to document the number of Road Traffic Accidents on four Signal Free Corridors, evaluated for five different years. It was revealed that the minor injury accidents were highest in all four Signal Free Corridors. However, in some cases number of severe and fatal road accident cases showed the emerging trend as well. Four types of road users were identified on these corridors out of which riders/pillion and pedestrians were the most vulnerable to Road Traffic Accidents. There is an emergent need to enforce the vehicle speed rules and regulations that would provide breathing time to traffic as well as reduce the incidents of consistent traffic blockages and rising Road Traffic Accidents.
Citation Information
Salman Zubair, Jamil H. Kazmi, Rashid Jooma, Syed Shahid Ali, et al.. "Impacts of signal free corridors on the incidence of road traffic accidents in Karachi"
Journal of Basic & Applied Sciences
Vol. 11 Iss. 1 (2015) p. 244 - 254
Available at: http://works.bepress.com/rashid_jooma/126/