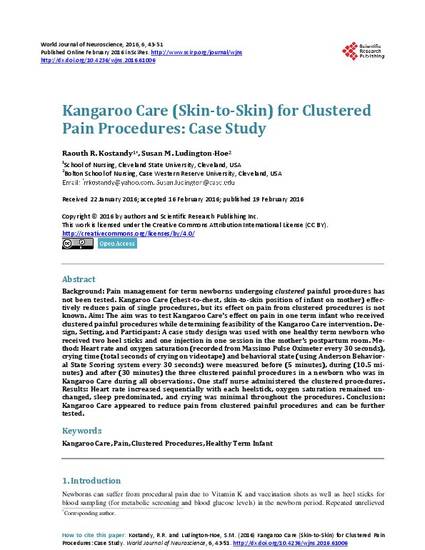 Article
Kangaroo Care (Skin-to-Skin) for Clustered Pain Procedures: Case Study
World Journal of Neuroscience
Publication Date
2-1-2016
Abstract
Background: Pain management for term newborns undergoing clustered painful procedures has not been tested. Kangaroo Care (chest-to-chest, skin-to-skin position of infant on mother) effectively reduces pain of single procedures, but its effect on pain from clustered procedures is not known. Aim: The aim was to test Kangaroo Care's effect on pain in one term infant who received clustered painful procedures while determining feasibility of the Kangaroo Care intervention. Design, Setting, and Participant: A case study design was used with one healthy term newborn who received two heel sticks and one injection in one session in the mother's postpartum room. Method: Heart rate and oxygen saturation (recorded from Massimo Pulse Oximeter every 30 seconds), crying time (total seconds of crying on videotape) and behavioral state (using Anderson Behavioral State Scoring system every 30 seconds) were measured before (5 minutes), during (10.5 minutes) and after (30 minutes) the three clustered painful procedures in a newborn who was in Kangaroo Care during all observations. One staff nurse administered the clustered procedures. Results: Heart rate increased sequentially with each heelstick, oxygen saturation remained unchanged, sleep predominated, and crying was minimal throughout the procedures. Conclusion: Kangaroo Care appeared to reduce pain from clustered painful procedures and can be further tested.
DOI
10.4236/wjns.2016.61006
Citation Information
Raouth R. Kostandy and Susan M. Ludington-Hoe. "Kangaroo Care (Skin-to-Skin) for Clustered Pain Procedures: Case Study"
World Journal of Neuroscience
Vol. 6 Iss. 1 (2016) p. 43 - 51
Available at: http://works.bepress.com/raouth-kostandy/8/