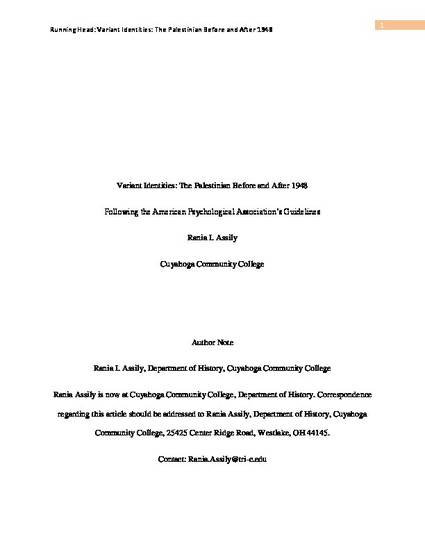 Article
variant identities final.docx
Cultural Encounters, Conflicts, and Resolutions (2017)
Abstract
The word "Palestinian" has had variant meanings since the British Mandate to the present day. The memory of Jerusalem and the inter-religious and cultural dynamism of pre-1948 is one deeply ingrained into the psyche of the Palestinian people and this has been evidenced by photographs and memoirs written by Palestinians prior to and during the al-Nakba (catastrophe of 1948). I will be referencing works by Issa J. Boullata, Elias Chacour, Edward Said, and others as well and my own personal familial accounts to signify the impact of memory in reconstructing identities after 1948—identities often confused, torn, and traumatized by the displacement and dispossession of lands and occupancy and the impact this has had on future generations of Palestinians both in and outside of the Middle East. 
Keywords
Nakba,
Zionism,
Palestinian,
national identity
Publication Date
Summer September 1, 2017
Citation Information
Rania Assily. "variant identities final.docx"
Cultural Encounters, Conflicts, and Resolutions
(2017)
Available at: http://works.bepress.com/rania-assily/1/