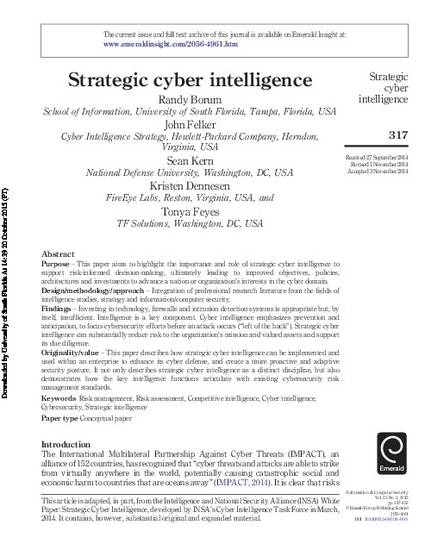 Article
Strategic Cyber Intelligence.pdf
Information & Computer Security (2015)
Abstract
Purpose – This paper aims to highlight the importance and role of strategic cyber intelligence to support risk-informed decision-making, ultimately leading to improved objectives, policies, architectures and investments to advance a nation or organization's interests in the cyber domain.
Design/methodology/approach – Integration of professional research literature from the fields of intelligence studies, strategy and information/computer security.
Findings – Investing in technology, firewalls and intrusion detection systems is appropriate but, by itself, insufficient. Intelligence is a key component. Cyber intelligence emphasizes prevention and anticipation, to focus cybersecurity efforts before an attack occurs ("left of the hack"). Strategic cyber intelligence can substantially reduce risk to the organization's mission and valued assets and support its due diligence.
Originality/value – This paper describes how strategic cyber intelligence can be implemented and used within an enterprise to enhance its cyber defense, and create a more proactive and adaptive security posture. It not only describes strategic cyber intelligence as a distinct discipline, but also demonstrates how the key intelligence functions articulate with existing cybersecurity risk management standards.
DOI
ttp://dx.doi.org/10.1108/ICS-09-2014-0064
Citation Information
Randy Borum, John Felker, Sean Kern, Kristen Dennesen, et al.. "Strategic Cyber Intelligence.pdf"
Information & Computer Security
Vol. 23 Iss. 3 (2015) p. 317 - 332
Available at: http://works.bepress.com/randy_borum/66/