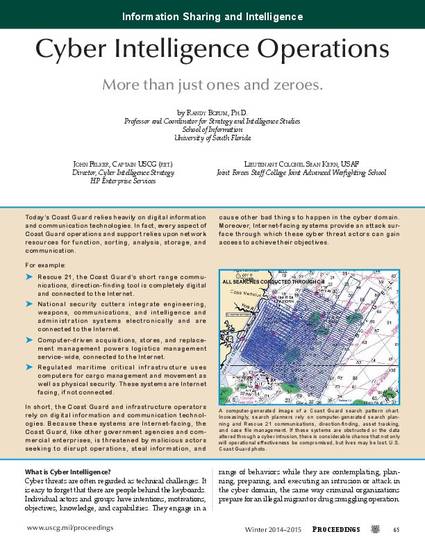 Article
Cyber Intelligence Operations: More than Just 1s & 0s
Proceedings of the Marine Safety and Security Council: The U.S. Coast Guard Journal of Safety and Security at Sea (2014)
Abstract
Today's Coast Guard relies heavily on digital information and communication technologies. In fact, every aspect of Coast Guard operations and support relies upon network resources for function, sorting, analysis, storage, and communication. Cyber threats are often regarded as technical challenges. It is easy to forget that there are people behind the keyboards. Individual actors and groups have intentions, motivations, objectives, knowledge, and capabilities.
Citation Information
Randy Borum, John Felker and Sean Kern. "Cyber Intelligence Operations: More than Just 1s & 0s"
Proceedings of the Marine Safety and Security Council: The U.S. Coast Guard Journal of Safety and Security at Sea
Vol. 71 Iss. 4 (2014)
Available at: http://works.bepress.com/randy_borum/64/