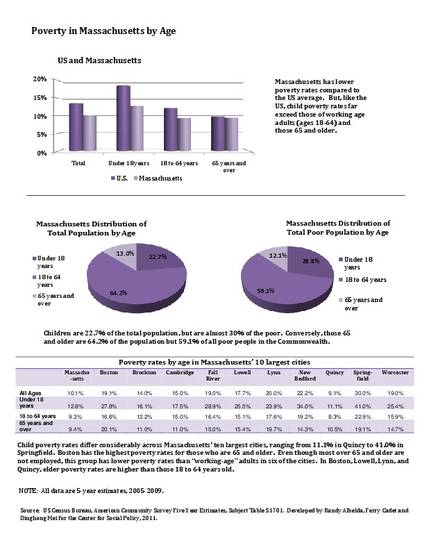 Other
Poverty in Massachusetts by Age
Center for Social Policy Publications
Publication Date
5-1-2011
Abstract
Massachusetts has lower poverty rates compared to the US average. But, like the US, child poverty rates far exceed those of working age adults (ages 18-64) and those 65 and older. Child poverty rates differ considerably across Massachusetts' ten largest cities, ranging from 11.1% in Quincy to 41.0% in Springfield. Boston has the highest poverty rates for those who are 65 and older. Even though most over 65 and older are not employed, this group has lower poverty rates than "working-age" adults in six of the cities. In Boston, Lowell, Lynn, and Quincy, elder poverty rates are higher than those 18 to 64 years old.
Community Engaged/Serving
No, this is not community-engaged.
Citation Information
Randy Albelda, Ferry Cadet and Dinghong Mei. "Poverty in Massachusetts by Age" (2011)
Available at: http://works.bepress.com/randy_albelda/22/