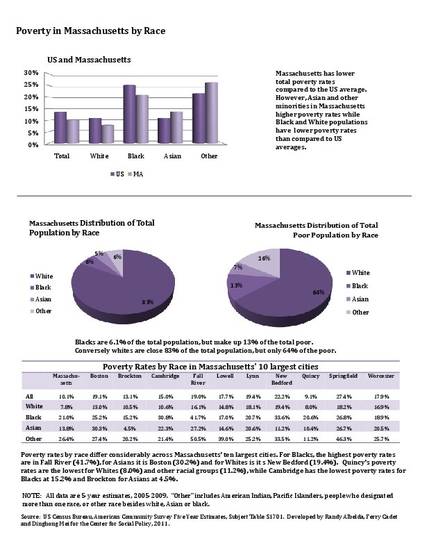 Other
Poverty in Massachusetts by Race
Center for Social Policy Publications
Publication Date
5-1-2011
Abstract
Massachusetts has lower total poverty rates compared to the US average. However, Asian and other minorities in Massachusetts higher poverty rates while Black and White populations have lower poverty rates than compared to US averages. Poverty rates by race differ considerably across Massachusetts' ten largest cities. For Blacks, the highest poverty rates are in Fall River (41.7%), for Asians it is Boston (30.2%) and for Whites is it s New Bedford (19.4%). Quincy's poverty rates are the lowest for Whites (8.0%) and other racial groups (11.2%), while Cambridge has the lowest poverty rates for Blacks at 15.2% and Brockton for Asians at 4.5%.
Community Engaged/Serving
No, this is not community-engaged.
Citation Information
Randy Albelda, Ferry Cadet and Dinghong Mei. "Poverty in Massachusetts by Race" (2011)
Available at: http://works.bepress.com/randy_albelda/21/