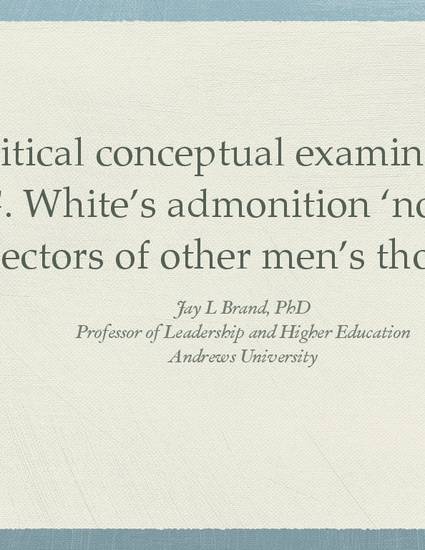 Presentation
A Critical Conceptual Dialogue on E. G. White's Admonition: "Not Mere Reflectors"
Andrews University Teaching and Learning Conference
Start Date
28-3-2019 2:55 PM
End Date
28-3-2019 3:20 PM
Type of Presentation
25 minute Scholarly Work Presentation
Proposal for Presentation
White's challenge, that 'Youth should be … thinkers, and not mere reflectors of other men's thoughts' can be misinterpreted. Often, individuals criticize education's focus on scholarly sources instead of personal creativity. However, to avoid reflecting other men's thoughts, students must be aware of what those men – and women – have said. In fact, in my understanding, it is impossible to contribute original, fresh ideas and insights WITHOUT awareness of what others have already said. To think originally, one must be familiar with previous ideas; otherwise, s/he will be in danger of merely reflecting the ideas of others - even if done unintentionally.
Citation Information
Jay Brand and Randy J Siebold. "A Critical Conceptual Dialogue on E. G. White's Admonition: "Not Mere Reflectors"" (2019)
Available at: http://works.bepress.com/randy-siebold/9/