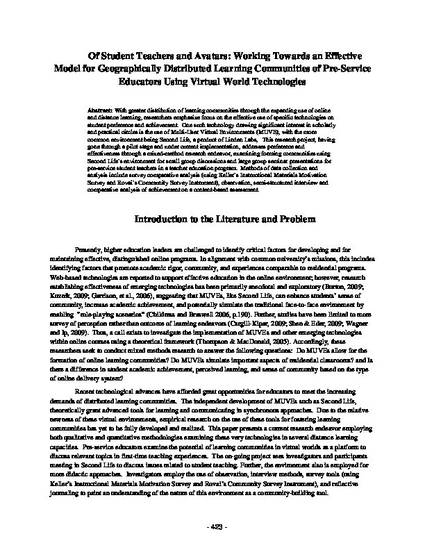 Article
Of Student Teachers and Avatars: Working Towards an Effective Model for Geographically Distributed Learning Communities of Pre-Service Educators Using Virtual Worlds.
Faculty Publications and Presentations
Publication Date
1-1-2010
Document Type
Conference Proceeding
Abstract
With greater distribution of learning communities through the expanding use of online and distance learning, researchers emphasize focus on the effective use of specific technologies on student preference and achievement. One such technology drawing significant interest in scholarly and practical circles is the use of Multi-User Virtual Environments (MUVE), with the more common environment being Second Life, a product of Linden Labs, This research project, having gone through a pilot stage and under current implementation, addresses preference and effectiveness through a mixed-method research endeavor, examining forming communities using Second Life's environment for small group discussions and large group seminar presentations for pre-service student teachers in a teacher education program. Methods of data collection and analysis include survey comparative analysis (using Keller's Instructional Materials Motivation Survey and Rovai's Community Survey Instrument), observation, semi-structured interview and comparative analysis of achievement on a content-based assessment.
Citation Information
Randall Dunn, Amanda J. Rockinson-Szapkiw, David Holder and Deborah Hodgson. "Of Student Teachers and Avatars: Working Towards an Effective Model for Geographically Distributed Learning Communities of Pre-Service Educators Using Virtual Worlds." (2010)
Available at: http://works.bepress.com/randall_dunn/32/